Eating for Your Oral Health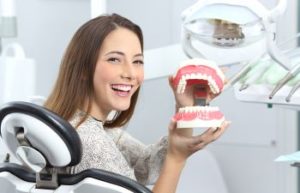 When you consider ways you can improve your oral health, you likely think about brushing, flossing and seeing your dentist for regular cleanings & checkups. These are three very important steps. However, the condition and health of your mouth can also be drastically affected by what you eat and drink. In other words, what you put into your mouth can harm or boost your body health as well as your dental health. Remember, your overall health and oral health are very closely linked!

Here are a few tips to starting eating for a healthier smile:
Slash the Sugar
The modern diet is loaded with sugar, including those in processed starches as well as those found in energy drinks and sodas. While we know that too much sugar is bad for our bodies, it is equally detrimental to our teeth. If you snack on sugary foods and drinks all day long, you are exposing your teeth to exactly what oral bacteria need to produce acid and eat away at the enamel of your teeth. Without strong enamel, you are extra vulnerable to cavities and infection. You may also find that you encounter sensitivity and discoloration within your smile due to your sugar habit.
Know the Nutrients That Support Optimal Oral Health
Your mouth needs certain nutrients to stay healthy. Do you know which ones? Consider getting more of these vitamins and minerals in your daily diet:
Calcium – remineralizes teeth
Iron – supports tongue health and prevents mouth sores
Vitamin C – essential for gum health
Vitamin A: aids in mouth healing
Niacin – fosters better breath and reduces inflammation
Drink More Water
One of the most important yet simplest changes you can make to your diet is to drink more water. Your body needs water for proper digestion and hydration, but your mouth also reaps the benefits. Drinking water frequently helps to wash away extra bacteria, food debris and plaque throughout the day. Water can also help neutralize the pH of your mouth as well as promote better saliva production.
Want to learn more about how your diet can affect your smile health? Schedule a consult with Dr. Wayne Suway. We are committed to helping patients achieve a beautiful and healthy smile through all stages of life.
Posted on behalf of Dr. Wayne G. Suway
1820 The Exchange SE, #600
Atlanta, GA 30339
Phone: (770) 953-1752
FAX: (770) 953-6470
Mon - Thu: 8:30 AM – 5:30 PM
Closed for lunch: 12:30 PM - 1:30 PM