Covid Protection Measures
Covid Protection Equipment implemented into the office space:
Plexiglass
Plexiglass has been installed at check in and check out areas to provide another layer of protection. Both the Centers for Disease Control and Prevention and Occupational Safety and Health Administration recommend the use of plexiglass in work environments to reduce direct spread of potentially infectious droplets between people.
Air Purifiers

Portable Air Purifier Units:
Air Purifier units in reception area, business office and all operatories.
Safely sanitizes the air using a 4-stage purification process – which helps eliminate 99.97% of particles as small as 0.3 microns. Cleans the air around you in four stages using an active carbon pre-filter, a True HEPA filter, a UV-C light with photocatalyst filter and an ionizer.
HVAC Aprilaire Space-Gard Air Purifier
Whole-office air purifiers remain the most effective and efficient way to clean the indoor air quality with nearly two times greater efficiency. Protects our patients and staff from harmful indoor pollutants and particles that you cannot see, like viruses.
Aerosol Extractors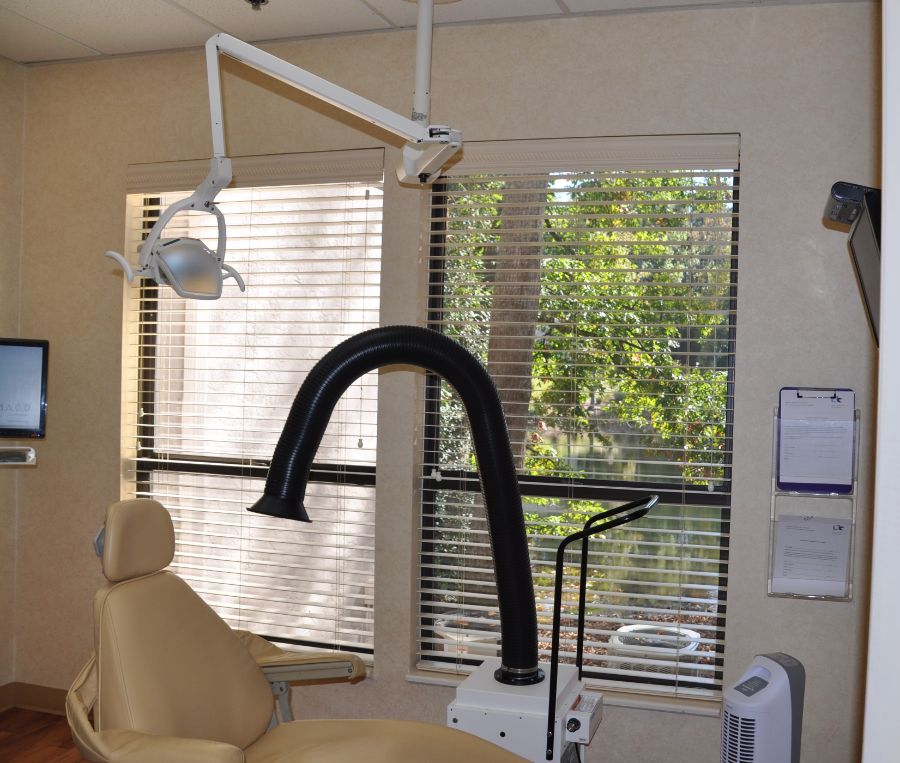 Benefits of Dental Aerosol Extractors
Dental Aerosol Extractors utilize a self-supportive arm to position near the source with a powerful fan to draw in dental aerosol particles into the filtration system. The system releases the filtered air back into the surrounding room therefore improving the indoor air quality of the dental office. High quality filter options include HEPA Filters (up to 99.97% efficiency on particles 0.3 microns and larger), ULPA Filters (up to 99.9995% efficiency on particles 0.12 microns and larger) and activated carbon filters for chemical fumes. Dental Aerosol Extractors offer numerous benefits over other filtration systems including:
Source Extraction – Self-supportive extraction arm allows the capture hood to be moved closer to the source. Source extraction helps to prevent contamination of surfaces, removes most of airborne particulate, and protects the breathing zone of technicians.
Ductless Design – The system's ductless design creates a recirculating airflow pattern providing easy installation with no ductwork or required makeup air.
Added Layer of Protection – HEPA or ULPA filtered systems provide an additional layer of protection against airborne bacteria, fungi, and pathogens.
Multiple Filter Configuration – Multiple filters allow for the removal of particulate and fumes (such as mercury and formaldehyde).
Protexus Cordless Electrostatic Sprayers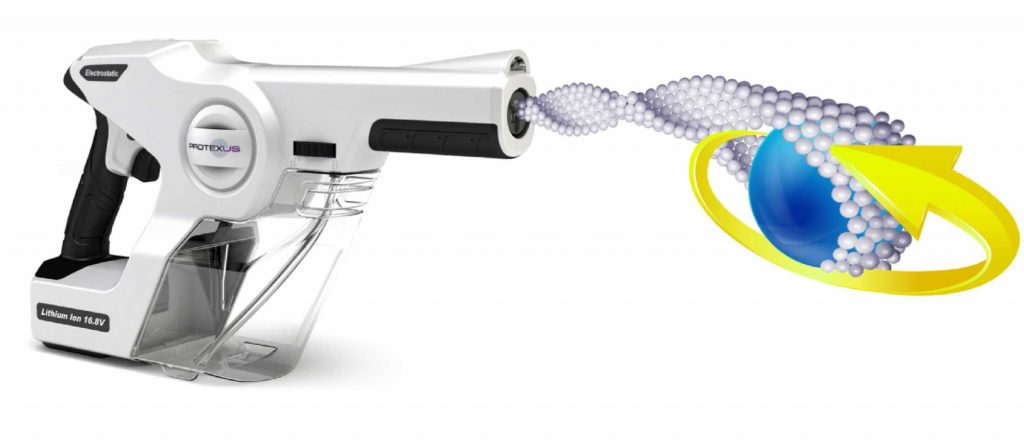 Electrostatic Sprayers are portable spraying systems that electrify a disinfectant solution into a charged spray that attaches to everything that is in the direction of the spray. It even covers the back side of target objects. It is safe to apply around people in all common areas.
The Protexus Sprayer uses an electrostatic charge that allows the droplets to attract to the surface, rather than float in the air (which is typically associated with a standard mister or fogger). This touchless electrostatic spray "wraps around" surfaces & objects in 360°, providing 3x more coverage in the same amount of time than traditional spray bottles.
The electrostatic sprayers hold innovative and revolutionary electrostatic spray technology that make sterilizing any environment a breeze. This powerful tool allows the user the ability to attack microbes and decontaminate areas and facilities efficiently and effectively.