Dentures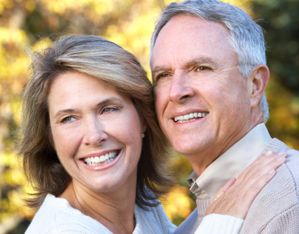 Our experienced dentist, Dr. Wayne Suway, has been crafting custom dentures for more than 30 years. Both full and partial dentures are offered at our practice as part of our restorative dentistry treatments to help you meet your individual needs. Our custom-crafted dentures are designed for the most comfortable and natural fit.
When dentures are ill-fitting, they can move and slip along the gums, negatively affecting your speech as well as the way you smile and eat. This is why Dr. Suway takes the time to adjust the shape, color, and style of your dentures for optimal results. Based on the state of your gums and teeth, he may recommend one of three types of dentures: traditional dentures, overdentures, or implant-supported dentures — all of which are available as full or partial dentures. We offer a variety of options that can work to help you replace missing teeth with beautiful, comfortable results.
If you would like to schedule a complimentary consultation with Dr. Suway to talk more about our denture treatments, please feel free to contact us.
Benefits of Dentures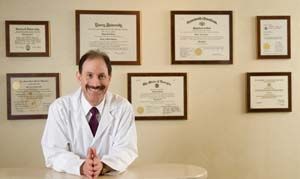 Advanced denture options can provide a wealth of benefits for both the look and function of your teeth. While each type has certain distinctions, virtually every type of denture we offer can replace missing teeth with:
a natural-looking appearance
improved functionality of the teeth
a reduced risk of bone loss
support for adjacent teeth
During the consultation process, Dr. Wayne Suway will help you understand what each type of denture can offer you based on your unique dental situation.
Types of Dentures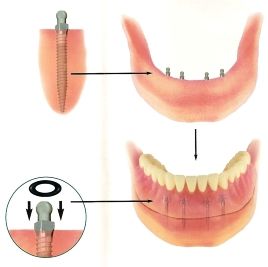 Filling in the gap left by missing teeth is crucial to prevent resulting damage to the rest of your teeth. Since every patient has unique dental needs, Dr. Suway offers various denture types to address every concern. The following dentures are available in both full and partial form:
Traditional Dentures
Our traditional, removable dentures are made of high quality materials for a durable and natural-looking fit. They can be designed to replace all or a few teeth, depending on your oral health and individual needs. They can ultimately help maintain or correct your bite for a more comfortable and functional solution. On average, traditional dentures last about 7 to 15 years.
Overdentures
Overdentures are recommended when your tooth roots are still intact. Your tooth root will act as a support for the denture and can ultimately help to prevent bone loss in your jaw. During the procedure, Dr. Suway will prepare your tooth roots to fit under the overdenture. This part of the procedure may include a root canal to eliminate nerve sensitivity.
Implant-Supported Dentures
For a more long-lasting solution, Dr. Suway may recommend dental implants to support a full or partial denture for patients who are eligible for the procedure. Implant-supported dentures function like normal teeth, as they are not removable and require only the normal degree of maintenance, such as brushing, flossing, and routine cleanings and checkups. The dentures are affixed to titanium posts that have been anchored into the jawbone, creating teeth that typically look and feel natural. On average, implant-supported dentures can last around 25 years.
Why Choose Dr. Suway for Your Dentures?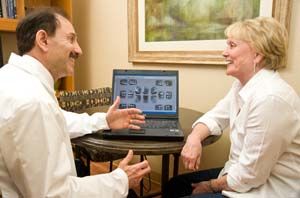 Our experienced dentist has worked with thousands of patients over his three-decade career. In that time, he has created numerous custom dentures that have brought patients greater comfort, improved functionality, and beautiful aesthetic results. During your initial consultation, Dr. Suway will evaluate the condition of your teeth and gums and will recommend a solution that can provide the best results. He will also address any questions or concerns you may have and talk with you about all of your options so that you'll have a thorough idea of what to expect.
Contact Dr. Wayne Suway
If you would like to learn more about our denture options, or if you would like to schedule a complimentary consultation, please contact our Dentures Dentist today!