Partnering in Care

for a Lifetime


of Smiles
Excellence in Cosmetic Dentistry, Dental Implants,
and Sleep Apnea
Welcome to the office of Wayne G. Suway, DDS, MAGD, D.ABDSM. For over 30 years, Dr. Wayne G. Suway has provided quality dental care to the Atlanta, Vinings and Marietta area. He is dedicated to offering the latest in cosmetic dentistry with an emphasis on patient comfort. Dr. Suway is a diplomate of the International Congress of Oral Implantology and an Associate Fellow of the American Academy of Implant Dentistry. He earned his Doctor of Dental Surgery from Emory University School of Dentistry and received his Bachelor's degree from Bucknell University. Dr. Suway also completed a one-year program in implant dentistry under the American Academy of Implant Dentistry at the Medical College of Georgia. Dr. Suway is also a Diplomate in the American Board of Dental Sleep Medicine who Treats Sleep Apnea. He is licensed to practice dentistry in Georgia, Pennsylvania, and New York. Through his extensive education and experience, Dr. Suway proves to be highly skilled in a variety of areas, including general dentistry, advanced dentistry, dental implants, restorative dentistry, cosmetic dentistry and dental sleep medicine.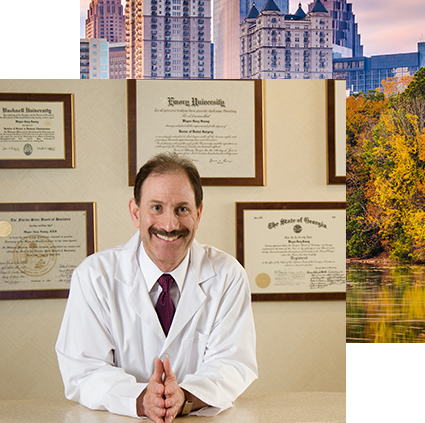 The office of Wayne G. Suway, DDS, MAGD, D.ABDSM in the North X Northwest Office Park just off of Windy Hill Road overlooks a beautiful lake, providing a scenic and relaxing setting for patients while they undergo such treatments as crowns, teeth whitening, porcelain veneers, routine cleanings and checkups and more. Our compassionate dental team is committed to helping patients feel confident and calm about their treatments. Dr. Suway and his team of caring professionals are diligent about addressing all of our patients' concerns, prior to treatment, and to keeping our patients informed. We work in a relaxed environment with patient rooms that have been designed with your comfort in mind. Our office has a beautiful lakeside view, which often adds tranquility to our patients' visits.
From dental cleanings and checkups for children to senior dentistry, you can count on Dr. Wayne G. Suway and the staff at our comprehensive dental practice to care for your dental health throughout every phase of your life. We offer exceptional care for every age with a skilled approach and a gentle touch. Dr. Suway believes that dental problems such as decaying teeth or tooth loss do not have to be a natural part of growing older. In fact, they can often be completely prevented with the proper care. Our practice works diligently to provide the most comfortable treatment possible, in addition to the most satisfactory results. Preserve your smile for many years to come by getting the dental care you need!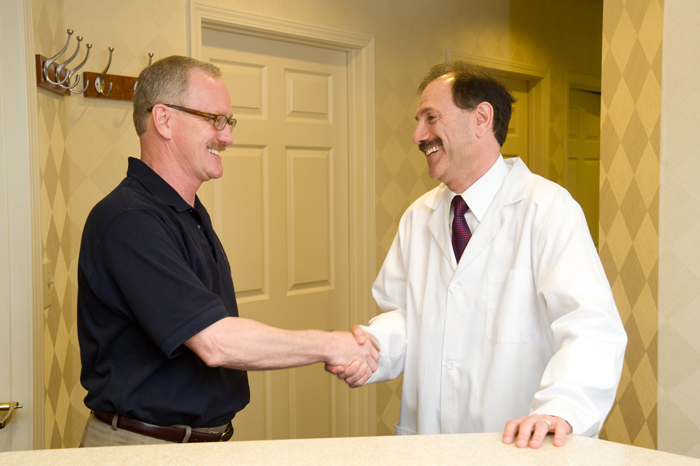 Our Client Reviews
4.8 / 5.0
Based on 36 reviews
Dr. Suway and his team are absolutely incredible. I always feel comfortable and informed with every step of the process that I've had in general routine cleanings and also fixing cracked teeth, etc. Just recently went during these COVID times and I've never seen a place so clean, well maintained, and at the forefront of leveraging new technology and tools to keep me safe. Special masks, machines to pull and filter air, etc. It was truly amazing! Super recommend this practice to anyone and everyone, but especially those that are concerned with seeing a dentist during COVID.
Dr. Suway has been a part of my family for years dating back to when my grandparents started going to him many moons ago. Now as the third generation, I love that he is my dentist and I enjoy going to my appointments! Can you believe I actually look forward to them?! He's pleasant, he's knowledgeable and he sings! I have a great experience every time I visit from the exceptional customer service to the comfort that I feel when I'm in the chair. I recommend Dr. Suway and his team to anyone searching for a great dentist! You will be glad that you did!
After more than a decade of horrible dental service experience, Dr. Suway is a breath of fresh air! He takes his time to ensure thorough work in a comfortable setting. His team is above-par in customer service and truly cares about their clients. By far the best dentist I've ever been to! And the initial consultation and exam is complimentary for new patients! I'm most definitely a lifelong client from this point forward
Don't put your needed dental work off anymore! If you are afraid of the novacaine injection,as I was, do not fear...Dr Suway does it perfectly! I would never go to the dentist before now, but my fears have been put to rest....they also give nitrous which makes the whole event tolerable. BEST experience ever....Thanks Dr Suway! I wish I had come to you years before!
I called the office last week and they told me they were booked till next year. However, they said they would call me if they could accommodate earlier. I was considering elsewhere when I got a call from Tameisha to come in the same day. What a incredible experience. They got me in a few minutes to my appointment. My dentist was very polite, funny and was done in no time. I wish I stayed a little longer. Dr Suway came out for a final walk around to make sure that I was ok. I live in Florida and I would fly in for next appointment. I left with a smile. I would definitely recommend this place to all. Give it a try.
I have been a patient of Dr.Suway for over 20 years and he is a exceptional dentist. He takes great care and professionalism in all his dental work and has never suggested a procedure that was not necessary for dental health. He cares about the comfort of his patients and his work is top notch. The office staff is also wonderful and everyone makes you feel at home. I highly recommend Dr. Suway"s office for excellent dental care.
Contact us
If you are looking for a dental practice you can trust to care for your dental health and the dental health of your entire family, it's time to sit back, relax and let our skilled team take care of your smile! To learn more about our cosmetic and restorative dentistry services, please contact
Wayne G. Suway, DDS, MAGD, D.ABDSM or call us today at (770) 953-1752 to schedule your appointment!
The True Cost of Skipping Your Dental Cleaning

Regular dental cleanings are a routine part of maintaining optimal oral health. While many might consider them a chore or simply a box to check off, the truth is that these appointments play a pivotal role in not just the health of your mouth, but your overall well-being. Let's delve into the implications of skipping…

Read more

Is Sparkling Water Bad for My Teeth?

Do you prefer a little fizz in your water? You are not alone. Sparkling, or carbonated, water options are an attractive way to hydrate, especially for those that struggle to drink enough "plain water." As the popularity of sparkling water continues to surge, however, so do concerns about its potential impact on oral health. Many…

Read more

Why Patients Love Opalescence® Teeth Whitening

At the office of Dr. Wayne Suway, we work hard to bring you the latest insights and advancements in dental care. In doing so, we proudly offer Opalescence® Teeth Whitening, a revolutionary treatment in cosmetic dentistry that can transform your smile and boost your confidence with minimal time and effort. A dazzling, radiant smile is…

Read more