Easing Your Fears
"We know people sometimes feel anxious about trips to the dentist, so we strive to provide a relaxing atmosphere." —Dr. Wayne Suway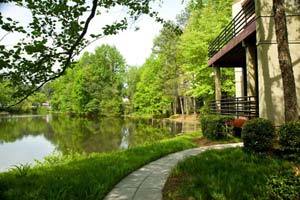 At Wayne G. Suway, DDS, MAGD, D.ABDSM, we make patient comfort a priority. We understand going to the dentist, even for simple checkups and cleanings, can be intimidating. Our dentist and his friendly and caring staff do their best to calm your nerves by providing the gentlest care. Your dental health is important to us, which is why we strive to make you feel comfortable and less anxious so you can get the dental work you need. Whether your visit is for general dentistry, cosmetic dentistry, or other dental needs, our goal is to eliminate your fear and get you on the road to a beautiful, healthy smile.
Gentle Care in a Relaxing Environment
Our compassionate dental team helps patients feel confident and calm about their treatments, addressing any concerns you may have and keeping you informed. We work in a relaxed environment with patient rooms that have been designed with your comfort in mind. Our office has a beautiful lakeside view, which often adds tranquility to our patients' visits. It's time to sit back, relax and let our skilled team take care of your smile!
If you would like to hear what our patients have been saying, feel free to visit our testimonials page.
Contact Dr. Wayne Suway
Don't let fear get in the way of your dental visits. Contact Wayne G. Suway, DDS, MAGD, D.ABDSM today to schedule an appointment. With advanced technology and a focus on comfort, we can help you take the anxiety out of your next dental visit.