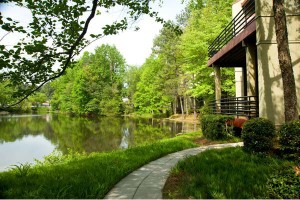 Dental phobia is the number one reason people give for avoiding the dentist. Almost one third of Americans put off having routine checkups and even necessary dental procedures because they have fear and anxiety related to visiting the dentist's office. At Wayne G. Suway, DDS, MAGD, we make patient comfort a priority. We understand that some people are uncomfortable at the dentist, which is why we go out of our way to calm our patients' nerves and provide the gentlest care possible. Whether patients are coming into our practice for a dental cleaning and checkup or most advanced dental needs, our goal is to eliminate fears and anxieties in order to get our patients on the road to a beautiful, healthy smile.
Perhaps one of the most notable things that our patients experience when they come into our office is the serene environment, inside and out. Our office has a beautiful lakeside view that provides tranquility to our patients' visit from the moment they arrive. With patient rooms that have been designed with comfort in mind, and with lakeside views from the rooms, relaxation is easy at the office of Wayne G. Suway, DDS, MAGD. Our skilled team of dental hygienists provides the specific care patients with anxieties need, and Dr. Suway offers the gentlest attention during all procedures.
Please do not let fear get in the way of keeping your mouth healthy and beautiful. Regular dental cleanings and checkups are essential for your overall well being. With advanced technology and a focus on comfort, Wayne G. Suway, DDS, MAGD can help you take the anxiety out of your next dental visit. Call today to schedule an appointment.
Posted on behalf of Dr. Wayne G. Suway
1820 The Exchange SE, #600
Atlanta, GA 30339
Phone: (770) 953-1752
FAX: (770) 953-6470
Mon - Thu: 8:30 AM – 5:30 PM
Closed for lunch: 12:30 PM - 1:30 PM