What to Expect During a Routine Dental Visit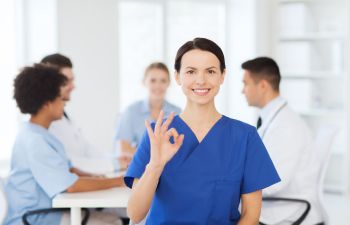 Keeping your teeth and gums healthy is the foundation to your general health. That's why we make it a priority to provide the highest standard of care when it comes to routine cleanings and checkups. This is a time where we can not only freshen your smile with a professional dental cleaning, but we can also catch oral health problems at their earliest stages and educate you on the proper ways to care for your smile at home.
Visiting the dentist on a regular basis can prevent a number of dental complications, including tooth decay, cracked teeth, gum disease, halitosis and even orthodontic problems. Rest assured that we use advanced technique and the latest dental technology available, even during your routine dental appointments – which include both a cleaning and an exam.
Your Dental Cleaning
In most cases, a Registered Dental Hygienist will perform your dental cleaning. All surfaces of your teeth will be thoroughly cleaned, which includes removing stubborn stains as well as plaque and tartar deposits that may cause decay or gum disease if left alone. Plaque is a stubborn substance on your teeth that builds up over time but cannot be removed with your toothbrush at home once it hardens. A professional dental cleaning can also eliminate bad breath and brighten your teeth for a more confident smile.
Your Dental Exam
A solid preventative approach to dentistry also involves a comprehensive dental exam during your routine visit. Here we take digital x-rays of your mouth and carefully assess your gum health to identify areas of disease, tissue detachment and bone loss. During your exam, we also screen for oral cancer as well as evaluate your TMJ, patterns of wear and the condition of your existing dental restorations. Our findings will be entered in your electronic dental record for easy reference.
If a dental problem is detected during your exam, you can trust Dr. Wayne Suway to handle it with superior care. Our office provides comprehensive services for all ages ranging from crowns and root canals to extractions and dental implants. Regardless of the type of restoration that is needed, we can help your smile retain optimal function and aesthetics for years to come.
Posted on behalf of Dr. Wayne G. Suway
1820 The Exchange SE, #600
Atlanta, GA 30339
Phone: (770) 953-1752
FAX: (770) 953-6470
Mon - Thu: 8:30 AM – 5:30 PM
Closed for lunch: 12:30 PM - 1:30 PM