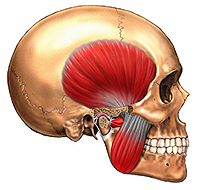 Temporomandibular Joint Disorder (commonly referred to as TMJ) involves pain and/or discomfort in the jawbone and the muscles that connect to it. The temporomandibular joint acts like a sliding hinge that connects the jawbone to the skull. If you put your fingers directly in front of your ears and open and close your mouth you can feel this joint as it moves. There are different causes for temporomandibular joint pain, and it takes the expert examination and knowledge of an experienced dentist to make the correct diagnosis. Wayne G. Suway, DDS, MAGD of Vinings has over 35 years of experience as a trusted dentist. He is a Diplomat of the International Congress of Oral Implantology and an Associate Fellow of the American Academy of Implant Dentistry. He has extensive education and experience, and he is dedicated to offering the latest in dentistry with an emphasis on patient comfort.
Many people experience TMJ due to clenching or grinding their teeth during the day and/or night. Clenching or grinding the teeth puts an incredible amount of pressure on the teeth for extended periods of time and can "wear out" the muscles of the mandible. In most cases, the pain and discomfort associated with TMJ requires treatment that is specifically diagnosed by a dentist but is performed at home with self-managed care.
Signs of TMJ include:
Pain or tenderness in the jaw
A clicking sound when eating
Aching in and around the ear
Frequent morning headaches (this is especially true for those who grind their teeth at night)
Aching facial pain
Locking of the jaw, making it difficult to open or close the mouth
It is estimated that over 10 million American suffer from TMJ. If you are one of these 10 million and are in or near the Atlanta area, please contact the dental practice of Dr. Wayne G. Suway. Dr. Suway will evaluate your bite and utilize the TMJ Doppler Unit to listen to the sounds that your joints make while your mouth is moving. An appropriate treatment plan will be designed for your specific situation because Dr. Suway understands that no two mouths are alike and must always be treated on an individual basis. Dr. Suway is a Master Dentist with extensive training and knowledge in jaw function. Do not continue to suffer with your jaw pain. Contact our dental practice today.
Posted on behalf of Dr. Wayne G. Suway
1820 The Exchange SE, #600
Atlanta, GA 30339
Phone: (770) 953-1752
FAX: (770) 953-6470
Mon - Thu: 8:30 AM – 5:30 PM
Closed for lunch: 12:30 PM - 1:30 PM