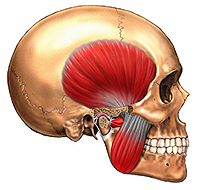 Millions of people in the United States suffer from TMJ (temporomandibular joint) discomfort. The temporomandibular joint acts like a sliding hinge connecting the jawbone to the skull. When the TM joint is out of alignment or has received too much pressure, pain can occur in the jaw joint and muscles that control movement. There are different causes of TMJ discomfort. Pain may be due to arthritis, jaw injury, clenching, or grinding the teeth. In most cases, the pain and discomfort of TMJ can be alleviated with treatment from your dentist.
Wayne Suway has 30 years of experience treating patients with all kinds of dental needs. Dr. Suway conducts a thorough examination process to diagnose TMJ in his patients. Symptoms of TMJ include headaches, pain in the face or jaw, a popping or clicking sound in the jaw when talking or chewing, clenching the teeth, ringing in the ears, and even numbness in the fingers and/or arms. TMJ is a condition that can worsen if it is not diagnosed and treated quickly.
As a restorative dentist, Dr. Wayne Suway can diagnose and treat a variety of symptoms and complications associated with TMJ. Because TMJ is typically caused by a bite that is out of alignment, Dr. Suway will devise a treatment plan that will stabilize the teeth and jaw alignment. This is usually accomplished with the use of a temporary bite guard that helps the jaw joint to find its appropriate alignment and stay in its position.
Dr. Wayne Suway is a Master Dentist with 30 years of extensive training and experience. He uses state of the art technology combined with his knowledge of what truly works to help his patients find the relief that they need. Contact the office of Wayne G. Suway, DDS, MAGD to learn more about treatment options. Dr. Suway can help you find the pain relief you need, and he can be your trusted dental source for life.
Posted on behalf of Dr. Wayne G. Suway
1820 The Exchange SE, #600
Atlanta, GA 30339
Phone: (770) 953-1752
FAX: (770) 953-6470
Mon - Thu: 8:30 AM – 5:30 PM
Closed for lunch: 12:30 PM - 1:30 PM