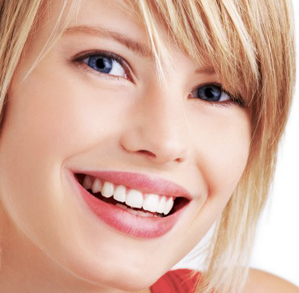 Many people remember from high school biology that tooth enamel is the hardest substance in the human body, yet they forget that these teeth are nestled into a much softer and sensitive tissue. Teeth that are sensitive are most likely reacting to damage of the actual tooth itself or from the gums surrounding them.
The inside of a tooth is made up of very soft pulp which houses the dental roots, blood vessels, and nerves that keep the tooth alive. Damage to the tooth itself can cause extreme pain or sensitivity, and damage to the gums surrounding the tooth can also cause extreme sensitivity. If you have a sensitive tooth, or multiple teeth that are highly sensitive, it is very important that you bring up this issue with your dentist. If your tooth sensitivity is affecting your quality of life in any way, it is important that you make an appointment with your dentist even if your regular visit is not scheduled for a few weeks or months.
Gum recession and damage to the tooth are the most common causes of tooth sensitivity. While teeth may also become sensitive after teeth whitening, this sensitivity is usually short-lived, while sensitivity due to tooth or gum damage is not. Receding gums is a common culprit in tooth sensitivity. Gum recession is often caused by brushing the teeth too vigorously so that the gums begin to pull away from the tooth's crown. When the gums recede, the highly sensitive dental roots are exposed, and bacteria work fast to attack and multiply in this area. That means that your teeth will have a double whammy of sensitivity because the roots, which are composed of nerves, are exposed and bacteria will begin to cause damage making these roots even more sensitive.
A crack or chip in the tooth enamel can also cause tooth sensitivity because, again, the inside of the tooth is made up of roots and nerves. Any time there is damage that causes the inside of the tooth to be exposed or compromised, tooth sensitivity can occur. This is why it is extremely important to tell your dentist right away about a sensitive tooth. Damage can often be treated and even reversed when treatment begins early, preventing tooth loss or the need for extensive dental work.
Wayne G. Suway, DDS, MAGD of Vinings understands how your sensitive teeth can have a negative effect on your mouth and your smile. Call today for your appointment, and begin treatment for your sensitive teeth.
Posted on behalf of Dr. Wayne G. Suway
1820 The Exchange SE, #600
Atlanta, GA 30339
Phone: (770) 953-1752
FAX: (770) 953-6470
Mon - Thu: 8:30 AM – 5:30 PM
Closed for lunch: 12:30 PM - 1:30 PM