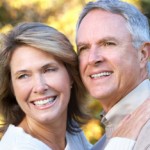 Jolts of pain or extreme sensation inside the mouth are quite unpleasant. Whether you are eating ice cream, enjoying a hot cup of coffee, or rinsing your mouth with cold water – sensitive teeth can ruin the moment.
Sensitive teeth are caused by the roots of the teeth being exposed. The most common cause of sensitive teeth is the recession of the gum tissues which expose the dentin layer of the teeth. Beneath the hard tooth enamel, a soft layer called dentin is present. This dentin layer has thousands of tiny tubes that lead directly to the tooth's center where the root of the tooth is found. When hot and cold temperatures, and even sweet and sour tastes, reach the nerves of the teeth, a jolt of pain or discomfort is felt.
It is always recommended that you bring any sensitive teeth to your dentist's attention. An evaluation by the dentist can determine whether or not a serious issue is present that is causing your teeth to be overly sensitive. In many instances, gum recession is present around a single tooth or a group of teeth due to over-aggressive brushing. This type of tooth sensitivity is generally easy to treat with a tooth paste that is specifically designed for sensitive teeth. However, more serious issues can also cause tooth sensitivity, which is why it should never be ignored.
Teeth that are damaged are often extremely sensitive. A cracked tooth allows bacteria, extreme temperature changes, and food particles to reach the root directly and cause significant discomfort. An infected tooth is another cause of tooth sensitivity. It is important to understand that damaged teeth will not heal on their own. Bringing them to your dentist's attention sooner rather than later will prevent more significant damage from occurring, as well as preventing extensive and costly treatment and/or repair.
Dr. Wayne Suway in Vinings, GA, provides exceptional care in all dentistry services. With over 30 years of dental experience, Dr. Suway provides excellence in treating sensitive teeth. Whether your situation requires a simple "padding" of the gums or a more extensive treatment, Dr. Suway is the dentist to turn to. Your comfort is always a priority, and our entire staff works diligently to provide the most comfortable treatment with the most satisfactory results. Contact us today.
Posted on behalf of Dr. Wayne G. Suway
1820 The Exchange SE, #600
Atlanta, GA 30339
Phone: (770) 953-1752
FAX: (770) 953-6470
Mon - Thu: 8:30 AM – 5:30 PM
Closed for lunch: 12:30 PM - 1:30 PM