Implant Dentures – No More Denture Palate Plate!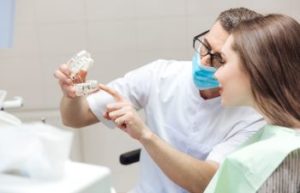 There's no doubt that traditional dentures come with drawbacks. Denture patients often report mouth irritations and a lack of confidence when eating and speaking. When it comes down to the traditional denture design, the palate plate can be blamed for a majority of these shortcomings.
The palate plate is on the upper denture. It is typically a plastic, gum-colored plate that rests on the roof of your mouth. Not only can the palate plate irritate your mouth, it can also trigger gagging in many patients. In addition, your sense of taste is compromised, as the denture palate blocks areas that help you taste certain foods.
Dental Implants Can Take Over the Role of a Palate Plate
The denture palate plate has two functions: stability and strength. It allows the upper denture to be suctioned into place. The tighter the seal of the palate place, the more secure your upper denture is. With dental implants, however, there is no need for suction to anchor your prosthetic teeth. Thus, there's no need for a palate plate. Plus, you'll get a much more stable smile with anchored implants compared to suction and adhesives.
If you have an implant-supported denture, your implants will produce direct force right into the bone, However, while dental implants can prevent your denture from rocking back and forth in your upper mouth, it can also increase the bite force on the denture. Therefore, some patients will need denture strengthening if the palate plate is removed.
If your denture palate plate is giving you troubles, including discomfort, lack of taste or inconvenience, we invite you to consider an implant-supported denture. Patients fall in love with how natural overdentures can look, function and feel! And the way your new smile feels within your mouth is no less important than how it looks to others.
Posted on behalf of Dr. Wayne G. Suway
1820 The Exchange SE, #600
Atlanta, GA 30339
Phone: (770) 953-1752
FAX: (770) 953-6470
Mon - Thu: 8:30 AM – 5:30 PM
Closed for lunch: 12:30 PM - 1:30 PM