Gum Disease and Bad Breath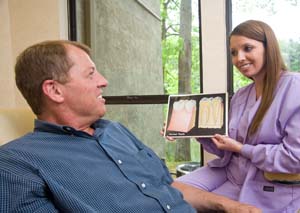 Bad breath is something many people may be unaware that they have until the embarrassing moment when someone points it out to them. Medically referred to as Halitosis, bad breath occurs when a build up of bacteria begins to decompose food particles and proteins within the mouth causing foul odors. Bad breath can be a consequence of poor oral hygiene habits, smoking, and poor diet choices; however, it can also be a warning sign of gum disease.
Gum disease is the chronic inflammation of the gums and tissues surrounding the teeth. It begins as gingivitis, which is an irritation of the gums that can be reversed when treated early on. Gum disease has been linked to serious health complications including diabetes, heart disease, and respiratory disease. But one of the most common complications is bad breath that does not go away even after brushing.
Wayne G. Suway, DDS, MAGD is here to help anyone who suffers from chronic bad breath as a result of gum disease. A professional deep cleaning of the teeth can begin treating gum disease at its source, helping to lessen the foul odors of the mouth. With continued treatment and a proper oral hygiene routine that includes brushing at least twice a day, flossing at least once a day, and regular dental checkups and cleanings can effectively treat gum disease and prevent more serious complications than severe bad breath.
Don't let bad breath dampen your social or professional life. Let Dr. Wayne Suway partner with you for a fresh, clean, and healthy mouth!
Posted on behalf of Dr. Wayne G. Suway
1820 The Exchange SE, #600
Atlanta, GA 30339
Phone: (770) 953-1752
FAX: (770) 953-6470
Mon - Thu: 8:30 AM – 5:30 PM
Closed for lunch: 12:30 PM - 1:30 PM