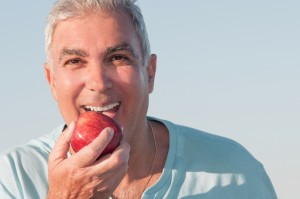 Most dentists agree: flossing is one of the most difficult things to get their patients to do. What all dentists, including Dr. Wayne Suway, wishes their patients knew is that flossing is more important than brushing. Yes, you read that correctly. If someone is going to choose between brushing and flossing, flossing needs to win every time. While brushing the teeth helps to remove plaque and bacteria on the front and back of the teeth, flossing is the only way for people to remove plaque from between their teeth. The saliva, tongue, and even certain foods take care of removing plaque from the front and back of the teeth, but cleaning in between the teeth is a job only floss can perform.
Dental plaque is comprised of harmful bacteria, viruses and microscopic parasites. Plaque that is left between the teeth and near the gums can accumulate and cause inflammation and infection. This is the first stage of gingivitis, which is the beginning stage of gum disease. If gingivitis is not taken care of it can develop into periodontal disease that can lead to tooth loss and bone loss.
Flossing is not difficult to do, though many people dread this daily task. Flossing is done by breaking off about 18 inches of floss and winding it around one of the middle fingers. Wind the remaining floss around the middle finger of the opposite hand and hold it tightly between the two hands. With about an inch or so of floss between each hand, the floss should be guided between the teeth using a gentle sawing motion. When the floss reaches the gum line, it should be curved around each of the teeth in order to remove the plaque that has formed. This technique should be repeated on all teeth, and then the chore is finished.
Wayne G. Suway, DDS, MAGD wants to partner with you as your dentist and your oral health advocate. Call today to schedule an appointment for a deep cleaning, and get on your way to making flossing a part of your daily routine.
Posted on behalf of Dr. Wayne G. Suway
1820 The Exchange SE, #600
Atlanta, GA 30339
Phone: (770) 953-1752
FAX: (770) 953-6470
Mon - Thu: 8:30 AM – 5:30 PM
Closed for lunch: 12:30 PM - 1:30 PM