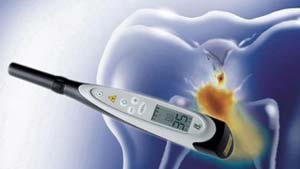 There have been many, many advances in dental technology since it began. From dental X-rays to teeth cleaning equipment to treatment of oral decay, advances have literally saved millions of teeth. One of these advances is a simple tool that is used to detect tooth decay that is not yet visible during an oral exam. DIAGNOdent is a non-invasive, painless tool used to detect tooth decay that is not visible on the surface of a tooth. With advances in technology, dentists no longer rely on outdated and traditional methods of detecting tooth decay. Because of the fluoridation of water and improved oral hygiene standards, the very nature of tooth decay has changed. Most tooth decay is concealed beneath the tooth enamel so that it is undetectable via a traditional sight exam.
DIAGNOdent works by scanning the teeth to measure fluorescence within the tooth structure. DIAGNOdent uses a laser to detect cavities below the surface of the tooth's enamel. Healthy teeth will have little or no fluorescence, while teeth that have decay present will have higher levels of fluorescence. DIAGNOdent measures the levels of fluorescence, which are proportionate to how extensive the tooth decay is. This highly effective laser tooth translates the fluorescence readings into a digital numeric output so that dentists can understand how little or how great the decay is below the tooth's surface.
Wayne G. Suway, DDS, MAGD understands that knowing the inside of the teeth is of utmost importance in keeping the teeth and mouth healthy. The DIAGNOdent laser allows Dr. Suway the ability to screen for the earliest signs of tooth decay so that he can address the issue at its beginning stage. As with all medical issues, any issue or condition that is caught at its earliest stage can be treated quickly and more effectively. You can trust Wayne G. Suway, DDS, MAGD with your full oral health, from the smallest issues to the most complex.
Posted on behalf of Dr. Wayne G. Suway
1820 The Exchange SE, #600
Atlanta, GA 30339
Phone: (770) 953-1752
FAX: (770) 953-6470
Mon - Thu: 8:30 AM – 5:30 PM
Closed for lunch: 12:30 PM - 1:30 PM