Are Dental Implants Safe?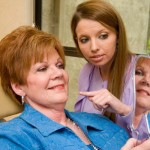 Modern dental implants have been around for over 30 years. During this time, they have been proven safe and effective time and time again for the replacement of missing teeth. In fact, dental implants carry a 98% success rate! Still, it is understandable that patients want to be reassured of their safety. After all, it is a fairly invasive procedure that involves replacing their tooth and their tooth root.
Dental implants contain a surgical post or screw made of titanium. Titanium is a biocompatible material that is readily accepted by your body. After it is placed into the jawbone, your natural bone fuses to the titanium post over time, a process called osseointegration. This forms a firm foundation for your prosthetic tooth or teeth. Dental implants allow you to carry out your everyday dental functions (chewing, laughing, speaking) with unrivaled confidence.
When performed by a skilled and qualified dentist, the implant surgery itself is one of the safest and most predictable procedures in dentistry. Many dentists use advanced 3D imaging technology for the most accurate surgical plan and precise implant placement. While you will be on a soft-foods diet temporarily, the mouth has an amazing ability to heal itself and recover from surgical procedures.
Healthy Body Required
While dental implants are highly unlikely to compromise your overall health, your overall health can compromise your dental implants. In fact, a person must be in good general health to qualify for dental implant surgery. If you smoke, have diabetes or suffer from a disease that can affect your body's immune system, it is especially important that you have your condition under control. Dental implants require proper healing within your gum tissues and bone to be successful. Therefore, anything that threatens this healing process can put you at risk for implant failure, lengthy recovery or other complications.
At the office of Dr. Wayne Suway, we take the time to carefully evaluate your candidacy for dental implants. If we agree that dental implants are right for you, you can rest assured they are also safe for you. We never put someone in danger for the sake of replacing their teeth. For more information about the dental implants process, please call our Marietta office today.
Posted on behalf of Dr. Wayne G. Suway
1820 The Exchange SE, #600
Atlanta, GA 30339
Phone: (770) 953-1752
FAX: (770) 953-6470
Mon - Thu: 8:30 AM – 5:30 PM
Closed for lunch: 12:30 PM - 1:30 PM