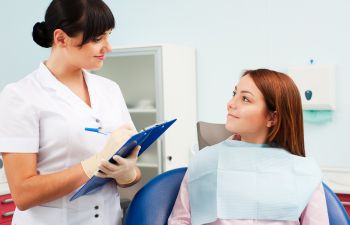 Every stage of life brings unique oral health challenges. While you may be familiar with special ways to care for children's teeth or a senior adult's smile, you should know that teenagers also need to be on guard for certain dental health risks. If you are currently parenting a teenager, we know you have to pick your battles. Adolescence is a time of change and growing independence that can often be difficult to manage. However, don't neglect your teenager's oral health. Just like the rest of their body, your teen's mouth is changing rapidly. Make the following dental health tips a priority during adolescence:
Watch for Wisdom Teeth
If your child's wisdom teeth (the 3rdand final set of molars) are going to need removal, it is typically done so around the ages of 17-25. So you'll want to watch out for signs of problem, such as pain, tenderness or swelling in the back of their mouth – as this may indicate impaction. It is also recommended that your teen's dental x-rays are up to date. Imaging is the best way to determine if the wisdom teeth need to be extracted.
Monitor Snack Choices
Your teen is probably in control of what he or she eats and drinks every day. While a healthy diet is important for their energy levels and growing body, it is equally important for their teeth. In fact, popular "junk food" snacks that teens like to munch on can be a real threat to their smile health. Encourage your child to moderate sodas and energy drinks as well as sugary and starchy snacks. It is helpful to stock your pantry and fridge with healthy snack options to make it easier for them to make a good choice.
Warn About Oral Piercings
Teens will begin to express their personality and experiment with their appearance. If you suspect your teen is considering an oral piercing, be sure to warn them of the drawbacks to their oral health. Mouth piercings can often become infected and they commonly crack or fracture surrounding teeth. This can lead to significant discomfort and costly dental repairs.
Stress Dental Hygiene
Today's teens are very busy. Late night study habits or frequent over-sleeping can tempt teenagers to slack off on their oral hygiene routine. Not only will skipped brushing sessions lead to bad breath and yellow teeth (which should be enough to get their attention), it can also contribute to gum disease, cavities and other more serious dental complications. Stress to your child the importance of brushing and flossing every day as a teen. In fact, your teen may need to brush and floss better than ever as an adolescent because a rise in hormones can also make their oral environment more susceptible to harm.
At the office of Dr. Wayne Suway, we are happy to help teens maintain a healthy and confident smile. We welcome the opportunity to give parents ways to encourage optimal oral health during these critical years of development.
Posted on behalf of Dr. Wayne G. Suway
1820 The Exchange SE, #600
Atlanta, GA 30339
Phone: (770) 953-1752
FAX: (770) 953-6470
Mon - Thu: 8:30 AM – 5:30 PM
Closed for lunch: 12:30 PM - 1:30 PM