Dental Bridges or Dental Implants? Find out why Dr. Suway says Dental Implants are the more Natural Choice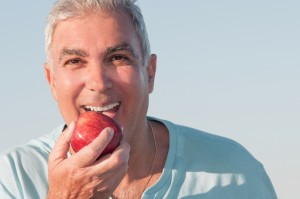 Choosing between dental bridges and dental implants is a decision many patients commonly face. Whether due to an accident, gum disease, a failed root canal or tooth decay, the American Association of Oral and Maxillofacial Surgeons (AAOMS) reports that nearly 70 percent of adults ages 35 to 44 have lost at least one permanent tooth. If you are like many Americans affected by tooth loss or damage, you have probably wondered what options are available and the advantages/disadvantages of each. At our Marietta cosmetic dentistry practice, we offer two major solutions: dental bridges and dental implants.
Dental bridges are used to close a gap in the mouth that is created by one or more missing teeth. They must rely on the teeth on either side of that space, and are made of pontics (false teeth) and crowns. Dental implants are meant to serve as the roots of the missing teeth and require surgical placement in the jawbone.
Dr. Wayne Suway points out that bridges can develop decay or come loose over time, as the supporting abutments move slightly every time you chew. Eventually, you'll have to replace the whole bridge or make it longer. Dental implants, on the other hand, do not affect the adjacent teeth, which means no preparation of surrounding teeth is required. Because an implant is a single entity that is complete on it's own, it does not have the same risks associated with dental bridges, such as movement. Implants also do not decay.
According to our experienced dentist, "The implant is the most natural way to restore the space because you floss and brush it normally just like your original teeth. With a bridge, you have to use a floss-threader to go underneath it." He emphasizes, however, that periodontal disease does not discriminate between dental implant or dental bridge patients. Regardless of the method chosen, patients still need to properly brush, floss, and plan for routine appointments to maintain their oral health.
For more information about dental implants and dental bridges, please contact us today.
Posted on behalf of Dr. Wayne G. Suway
1820 The Exchange SE, #600
Atlanta, GA 30339
Phone: (770) 953-1752
FAX: (770) 953-6470
Mon - Thu: 8:30 AM – 5:30 PM
Closed for lunch: 12:30 PM - 1:30 PM