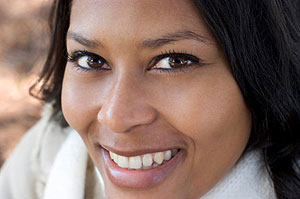 Cosmetic dentistry consists of any procedures used for subtle changes in a person's smile to major repairs. There are a variety of options available to treat chipped, discolored, misshapen, and missing teeth. Cosmetic dentistry is a way to enhance the appearance of a person's smile, however many times cosmetic dental procedures can also improve other oral problems and function of the mouth. Dr. Wayne Suway has more than thirty years of experience with cosmetic dentistry, and he offers a specialized and personal approach to each patient who wishes to enhance his or her smile.
Teeth whitening is the most popular choice in cosmetic dentistry. The teeth whitening process is a relatively quick, painless, and easy procedure, and it can be done in office or at home with professional grade whitening gel obtained from the dentist.
Porcelain veneers are used to many to hide imperfections in the teeth while giving the appearance of a beautiful smile. Veneers cover the surface of the teeth and are designed to look and feel like natural teeth. Porcelain veneers can improve the appearance of gaps, chips, stains, and other cosmetic issues of the teeth.
Bonding is used as an alternative to porcelain veneers. A thin coating of bonding material is applied to the surface of the teeth and is thin sculpted to provide a correction that blends in with the other teeth.
Crowns are caps that are placed over a tooth to restore it to its normal shape and appearance. Crowns have a very long lifespan and can help keep surrounding teeth healthy.
A beautiful smile is enviable in just about everyone. If you are looking to improve the appearance of your smile through a cosmetic dental procedure, contact the dental practice of Dr. Wayne Suway today. He works closely with each patient to create a fully customized approach so that every patient receives the smile that s/he dreams of.
Posted on behalf of Dr. Wayne G. Suway
1820 The Exchange SE, #600
Atlanta, GA 30339
Phone: (770) 953-1752
FAX: (770) 953-6470
Mon - Thu: 8:30 AM – 5:30 PM
Closed for lunch: 12:30 PM - 1:30 PM