Can Chewing Gum Be Good for Your Teeth?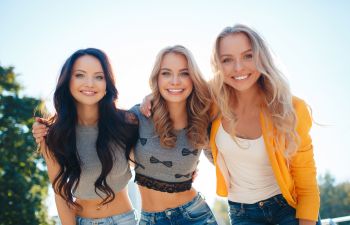 Believe it or not, chewing gum can actually be good for your teeth. While you may think a stick of gum is only keeping your breath fresh, there are several benefits it can provide towards the health and appearance of your smile. Scientific evidence proves that chomping on sugarless gum can increase your saliva production. This opens the door for a full range of oral health benefits, including:
Reducing Dry Mouth
Neutralizing Harmful Acids
Rinsing Away Food Particles
Remineralizing Tooth Enamel
Your spit is more helpful than you think. Not only does saliva help your food break down and digest more easily, it can also protect your teeth from decay. When acids, bacteria and food particles linger in the mouth, it creates an environment that fosters decay, disease and infection. Therefore, anything you can do to increase your saliva production is often advantageous for your dental health. Chewing sugar-free gum is an excellent example! This simple and easy task can also help remove dark-colored food particles and liquids that may stain your teeth until you get to your toothbrush.
The Fine Print is Important
There are two criteria you should know about chewing gum to benefit your dental health. First, always choose sugarless gum. Failing to do so may sabotage your efforts and cause harm instead of good. Second, be mindful about the amount of time you are chewing. Chewing places strain and pressure on your jaw muscles, or your TMJ. Excessive demand on this joint can lead to irritation, pain and dysfunction (TMJ disorder). If your gum habit is causing a sore jaw or stiff jaw, scale back the amount of time you are chewing.
ADA Approved Gum Options
Sugar-free gums that have the American Dental Association® (ADA) Seal of Acceptance are sweetened with artificial sweeteners that do not cause decay, such as aspartame, sorbitol, xylitol and mannitol. Some types of sugarless gum even help whiten your teeth and fight back on decay. If you prefer to keep a healthy smile, you can rest easy when choosing the following brands of gum:
Dentyne® Ice™ Sugarless Gum
Trident® Sugarless Gum
Wrigley's 5® Sugar Free Gum
Wrigley's Extra® Sugar Free Gum
Wrigley's Orbit® Sugar Free Gum
Remember that chewing gum after eating does not serve as a substitute for brushing and flossing. Stay informed on easy ways to maintain a healthy and vibrant smile with Dr. Wayne Suway of Marietta.
Posted on behalf of Dr. Wayne G. Suway
1820 The Exchange SE, #600
Atlanta, GA 30339
Phone: (770) 953-1752
FAX: (770) 953-6470
Mon - Thu: 8:30 AM – 5:30 PM
Closed for lunch: 12:30 PM - 1:30 PM