Are Your Missing Teeth Aging You?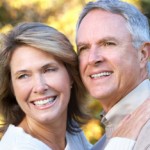 The truth is, our bones need consistent stimulation to maintain their form and density. When it comes to your jawbone, your teeth roots are responsible for stimulation as you bite and chew on a daily basis. Each force prompts the bone to regenerate and retain its structure. Without teeth (and teeth roots), patients experience bone loss over time. In fact, in just one year after tooth loss, there is a 25% decrease in bone width! After 3-4 years, patients may lose as much as 4 millimeters in the jawbone height.
If there is multiple teeth lost and bone loss progresses, the lower third of the face will eventually collapse and the lips will start to sag. This is due to the lack of jawbone support that the face once had. Consequently, patients may look prematurely aged and unhappy.
The good news is that there is a tooth replacement solution that prevents jawbone loss that causes this unwanted premature facial aging. Dental implants are designed to replace both the tooth and the tooth root, which gives your jawbone adequate stimulation throughout the day. Patients who choose dentures that are not supported by dental implants are still at risk for bone loss. Dental implants not only look more natural and feel more comfortable, but they have a success rate that exceeds 95%!
To find out if you are a candidate for dental implants, please call Dr. Wayne Suway. If you have recently lost one or more teeth, time is of the essence when it comes to replacement. Dental implants require a certain amount of jawbone density in order to be placed. If you think you've waited too late and bone loss has already begun, you may be able to take advantage of bone grafting before your implants surgery.
Posted on behalf of Dr. Wayne G. Suway
1820 The Exchange SE, #600
Atlanta, GA 30339
Phone: (770) 953-1752
FAX: (770) 953-6470
Mon - Thu: 8:30 AM – 5:30 PM
Closed for lunch: 12:30 PM - 1:30 PM