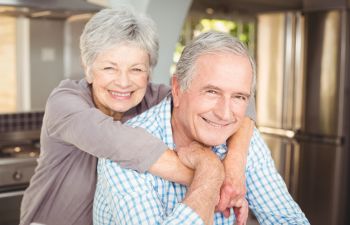 If you are an aging adult, you know that you have multiple products and procedures available to you to "turn back the hands of time." While you may think of anti-aging treatments as those that reverse facial wrinkles or brighten your skin tone, there are also ways you can bring a sense of youthfulness to your smile. Cosmetic dentistry offers tailored treatment options to reverse the signs of aging across your smile.
Dental Concerns for Seniors
There is no question that aging takes its toll on the body – this includes the teeth and gums.
Seniors face some unique oral health challenges that can threaten the appearance of your smile. Just because you have lived a long life, doesn't mean your teeth should show your age or even make you look older than you really are.

Aging adults tend to struggle with the following when it comes to their dental health:
Periodontal disease
Tooth loss
Tooth sensitivity
Receding gums
Discoloration and stains
Decay due to dry mouth
Cosmetic Dentistry Solutions for the Aging Smile
It is important to understand the health of your aging teeth needs to be addressed before anything else. If there is gum disease or decay, you may need restorative dental treatments to save your natural teeth. However, once the health of your smile has been addressed, you'll be happy to know there are a wide variety of options in cosmetic dentistry that can help you erase the years that have not been so kind to your teeth.
Cosmetic dentistry has become popular among seniors. Improvements in technology provide the opportunity for advanced treatments that faster and more comfortable than ever before.
Dentistry for seniors can include the following:
Tooth Whitening
Bonding
Dental Veneers
Dental Implants
Some aging adults will qualify for a full mouth reconstruction, which combines both restorative dentistry and cosmetic dentistry to provide improved functionality and pleasing aesthetics in one treatment plan.
If you are interested in regaining a youthful smile as a senior adults, call Dr. Wayne Suway in Marietta today.
Posted on behalf of Dr. Wayne G. Suway
1820 The Exchange SE, #600
Atlanta, GA 30339
Phone: (770) 953-1752
FAX: (770) 953-6470
Mon - Thu: 8:30 AM – 5:30 PM
Closed for lunch: 12:30 PM - 1:30 PM