5 Reasons to Schedule Your Routine Dental Exam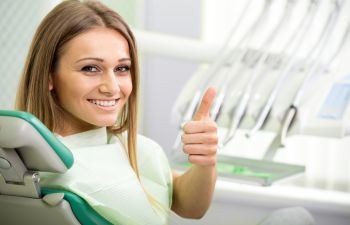 Are you skipping your routine dental cleanings? Don't miss the importance of these six-month visits to your dentist. You may assume you don't need the dentist to clean your teeth if you are brushing at home every day. However, a professional-grade dental cleaning offers far more than what you can achieve on your own.
A dental cleaning includes special (gritty) toothpaste and scaling tools that can remove stains and tartar that your toothbrush cannot. Once plaque hardens into tartar along your teeth and gums, you become vulnerable to decay, gum disease and a host of other dental problems. A professional dental cleaning is the only way to remove tartar before it starts causing costly complications.
Here are some leading reasons why professional dental cleanings should be non-negotiable for your family:
Brighter Smile. Your dental hygienist can remove those stubborn surface stains that dull and discolor your smile. You can walk away with a brighter and more confident set of teeth after a professional dental cleaning.
Avoid Gum Disease and Tooth Decay. Professional cleanings remove harmful bacteria and plaque that builds up between your teeth and just below your gum line. In doing so, we can prevent periodontal disease and its devastating effects it can have on your smile and body. In addition, we can remove tartar build up before it begins to attack the enamel of your teeth and create cavities.
Detect Oral Cancer. In America alone, one person dies from oral cancer every hour. Oral cancer, however, is very curable if detected at an early stage. A routine dental cleaning includes a physical exam and oral cancer screening from your dentist who was uniquely trained to detect oral cancer's early signs.
Reverse and Repair Minor Dental Issues. You may not know you have a cracked filling, a beginning cavity or early gum disease (gingivitis) – but your dentist can find these minor issues and correct them before they become major dental issues. Skipping your professional dental cleanings can give small problems more time to linger and worsen.
Protect Your Overall Health. Did you know that your mouth and your body are strongly linked? In fact, oral conditions like gum disease that go untreated can lead to heart disease, stroke, premature birth and other serious overall health issues. By attending dental cleanings with your dentist, you are protecting and boosting your whole-body health.
Schedule Your Routine Dental Cleaning in Marietta
If it has been six months or longer since your last professional dental cleaning, call Dr. Wayne Suway. Keep in mind that dental insurance typically covers these visits, but we also have ways to make dental cleanings more affordable.
Posted on behalf of Dr. Wayne G. Suway
1820 The Exchange SE, #600
Atlanta, GA 30339
Phone: (770) 953-1752
FAX: (770) 953-6470
Mon - Thu: 8:30 AM – 5:30 PM
Closed for lunch: 12:30 PM - 1:30 PM