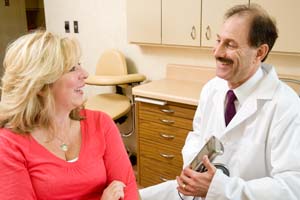 You would expect a dentist to tell you that it is necessary to come in for regular teeth cleaning appointments, right? Well, did you know that your regular care physician would tell you the same thing? And so would your chiropractor, your oncologist and any other physician. That is because a bi-annual teeth cleaning does much more than keeping your smile looking its best. By visiting your dentist on a regular basis you can help to promote the health of your teeth, gums and your entire body. Many diseases begin in the mouth or make their first appearances in the mouth. By visiting the dentist on a regular basis, prevention of many diseases and complications can be avoided.
Dr. Wayne Suway knows that a healthy smile is not only beautiful, but it is necessary for promoting one's overall health. In the dental office of Wayne G. Suway, DDS, MAGD, all patients receive a professional dental cleaning who will thoroughly remove all plaque that builds up between visits. Also, Dr. Wayne Suway will get to know you. By thoroughly educating himself on your lifestyle behaviors, oral habits, and medical history, Dr. Wayne Suway can keep track of your oral health. When patients maintain regular dental visits, it is easy for Dr. Wayne Suway to pick up on any changes in one's oral health. For instance, gums that have recently become irritated may be a sign or symptom of diabetes that has not been diagnosed by a regular care physician. Dr. Suway wants to establish a relationship with all of his patients in order to help them stay healthy.
Dr. Wayne Suway accepts most dental insurances because he understands the importance of prevention and wants to provide his patients with the same. Teeth cleanings are preventative in helping to rid the mouth of dangerous plaque and bacteria that can affect the health of the mouth and other areas of the body through the bloodstream. Call the dental office of Wayne G. Suway, DDS, MAGD today to schedule an appointment to have your teeth cleaned. This is the first step in promoting a healthy lifestyle.
Posted on behalf of Dr. Wayne G. Suway
1820 The Exchange SE, #600
Atlanta, GA 30339
Phone: (770) 953-1752
FAX: (770) 953-6470
Mon - Thu: 8:30 AM – 5:30 PM
Closed for lunch: 12:30 PM - 1:30 PM