Six Reasons to Make Senior Dental Care a Priority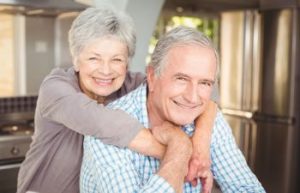 As we age, it can become more difficult to care for ourselves. Unfortunately, one of the most neglected steps in personal hygiene involves dental care. Since we know that dental health is directly related to whole-body health, dental care must remain a priority through all stages of life – especially if you are considered a senior or aging adult.
Seniors are prone to certain oral health conditions, ranging from dry mouth to gum disease. These are not issues to be taken lightly, as they can lead to serious complications within the mouth and the rest of the body. Here are some top reasons to make senior dental care a priority:
Heart Disease
The link between heart health and gum disease is undeniable. In fact, the American Academy of Periodontology reported that people with periodontal disease are almost twice as likely to have coronary artery disease or heart disease.
Pneumonia
Poor oral health almost always means excess bacteria living in the mouth. When this goes unchecked, bacterial droplets from the mouth can be inhaled into the lungs and potentially cause pneumonia in the elderly.
Diabetes
The relationship between gum disease and diabetes is a two-way street. In other words, poorly managed diabetes can increase your risk for gum disease, but gum disease can also hinder the body's ability to properly use insulin and balance blood sugar levels.
Tooth Loss
If oral hygiene is neglected and gum disease goes untreated, the stage is set for tooth loss. In the elderly, missing teeth can limit proper nutrition, affect speech and quality of life and even create changes within the jaw bone and influence facial appearance.
Dry Mouth
Dry mouth is a very common side effect of several senior medications. Since we need saliva to keep our oral health in check, it is important to take extra measures with your dentist to increase saliva production and protect your smile from decay and infection.
Denture-Induced Stomatitis
Many seniors wear dentures, which doesn't exempt them from going to the dentist on a regular basis. Poor fitting dentures, neglected dental hygiene and the buildup of Candida albicans fungus can lead to an uncomfortable inflammatory condition called denture-induced stomatitis.
Ready to see a Marietta dentist that specializes in senior dentistry? Call Dr. Wayne Suway. We know exactly what your oral health demands at every stage of life.
Posted on behalf of Dr. Wayne G. Suway
1820 The Exchange SE, #600
Atlanta, GA 30339
Phone: (770) 953-1752
FAX: (770) 953-6470
Mon - Thu: 8:30 AM – 5:30 PM
Closed for lunch: 12:30 PM - 1:30 PM