Make Regular Dental Visits a Priority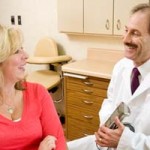 You know that you should visit the dentist on a regular basis, but calling and changing your appointment to a later date is often a reality. Before you call and cancel or "postpone" your next dental visit, it is important to understand just how vital there are.
Whether you realize it or not, there is a lot that goes on during your regular dental visits to ensure that not only your mouth, but your overall health is in good condition. Your mouth is examined in order to look for any signs of dental decay, periodontal disease, and oral cancer. During a regular dental visit, your mouth is thoroughly cleaned and examined. The teeth are cleaned in order to remove damaging plaque buildup that can lead to cavities and gum disease. Plaque is made up of acid-producing bacteria that eat away at your tooth enamel and gum tissues. If plaque is not removed on a regular basis, it will grow and develop into a serious oral health issue that pose many threats to your health.
Many other diseases also present themselves with their first signs and symptoms within the mouth, and your dentist is trained to look for any complications that jeopardize your health. Numerous studies report the link between oral health and the health of the entire body. Gum disease and tooth decay have direct links to extremely serious health problems such as:
Diabetes
Heart disease
Kidney failure
Miscarriage
Pre-term labor
Low birthweight babies
Because the mouth is made up of living tissues, germs and infections within the mouth can easily travel throughout the body through the blood stream and affect the entire body. By making regular dental visits a priority, you are not only protecting your mouth, but you are also protecting your entire well-being.
Dr. Wayne G. Suway has made it a priority to partner with all of his patients to be an advocate for their health. Our dental practice wants to encourage you to make regular dental visits a priority. While setting aside an hour once or twice a year may seem like a hassle, these relatively short visits can save you a great deal of time and expense later on – not to mention, save your life. Call today to schedule your next appointment.
Posted on behalf of Dr. Wayne G. Suway
1820 The Exchange SE, #600
Atlanta, GA 30339
Phone: (770) 953-1752
FAX: (770) 953-6470
Mon - Thu: 8:30 AM – 5:30 PM
Closed for lunch: 12:30 PM - 1:30 PM