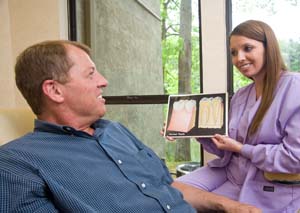 Gum disease affects millions of Americans each year, despite the fact that the United States has the world's best dental care. A dentist can only do so much for patients, and it is then up to them to take the necessary steps to promote optimal oral health at home and between regular dental visits. Gums that bleed easily are often the very first sign of gum disease. Many people tend to dismiss this symptom as just a simple annoyance; however, ignoring this symptom can cause them to allow gum disease to become irreversible, causing significant damage to their teeth and gums. When gum disease is present in its earlier stages, there are treatments that can be used to clean the gums so that the infection is healed and does not continue to spread. Laser gum treatment is a safe and reliable treatment for gum disease, and Wayne G. Suway, DDS, MAGD is proud to offer it to his patients.
Laser gum treatment is a very precise treatment that is designed to treat the soft tissues of the gums that are infected before they become irreversibly damaged. With the precision of a laser, the bacteria and infection that are deep between the gum line and the teeth can be removed. The laser treatment also treats the areas below the gum line to prevent further infection from forming. In fact, laser gum treatment has been shown to be more effective than antibiotics at killing the bacteria that causes gum disease.
Gum disease is not a small irritation that should be ignored. In most cases when gum disease is caught in its earliest stage, gum disease can be reversed by simple treatments. However, laser gum treatment is now safely and effectively used for those who have significant gum disease. With the precision, effectiveness, and ease of the procedure, laser gum treatment is a dental advancement that has helped many people save their smiles.
Posted on behalf of Dr. Wayne G. Suway
1820 The Exchange SE, #600
Atlanta, GA 30339
Phone: (770) 953-1752
FAX: (770) 953-6470
Mon - Thu: 8:30 AM – 5:30 PM
Closed for lunch: 12:30 PM - 1:30 PM