Is It Time To Say Goodbye to Your Toothbrush?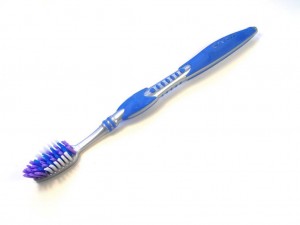 Before you pick your toothbrush up today to brush your teeth, take a good look at it. Do you know how long you have been using this particular toothbrush? Does it look right? Is it time to say goodbye to your toothbrush?
The American Dental Association recommends that you replace your toothbrush every three months; with six months being the absolute longest anyone should use the same toothbrush. A toothbrush is a tool that is designed to help clean the teeth and gums and keep them as healthy as possible between dental visits. The bristles of the toothbrush are fashioned in such a way that they are firm enough to brush away plaque and food particles, yet gentle enough not to injure the gum line. However, after a few months of use, these bristles begin to break down and are not as effective at cleaning as they were when the toothbrush was new.
Because the toothbrush is designed to clean the teeth and remove plaque and bacteria from the mouth, these elements will inevitably become trapped on your toothbrush. While it is extremely beneficial to vigorously rinse your toothbrush under running tap water, this will not eliminate all of the germs from your mouth. As months go by, bacteria will eventually begin to build up on your toothbrush, making it a dirty object that has no place inside your mouth. This is especially true if you have just battled a virus, flu or strep throat. After any sickness, it is important to replace your toothbrush immediately to avoid reinfection.
Aside from a clean mouth and a professional dental checkup, one of the benefits of keeping regular bi-annual dental checkups is that you will receive a new toothbrush as the end of your visit. This regularity allows you to replace your toothbrush on a schedule that is easy enough to remember. Contact the office of Wayne G. Suway, DDS, MAGD today to schedule your next dental appointment. We have a new toothbrush waiting for you!
Posted on behalf of Dr. Wayne G. Suway
1820 The Exchange SE, #600
Atlanta, GA 30339
Phone: (770) 953-1752
FAX: (770) 953-6470
Mon - Thu: 8:30 AM – 5:30 PM
Closed for lunch: 12:30 PM - 1:30 PM