How Your Dentist Cares For Your Whole-Body Health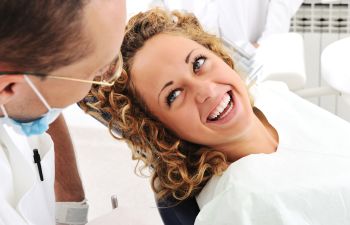 Your dentist is trained to take care of your teeth and gums. But did you know that a trip to the dentist can also be a means to address health issues beyond your mouth? In fact, during a routine dental visit, your dentist may be able to detect a wide range of concerns throughout your entire body.
The mouth is considered the gateway into the rest of your body. Whether you realize it or not, symptoms can appear inside your mouth that can point to several different overall health issues, ranging from stress to heart disease and many conditions in between.
Dental Symptoms Linked to Stress
Stress can present itself in many ways throughout your body, including your mouth. Patients who are under excessive stress or anxiety may experience mouth sores, dry mouth and signs of teeth grinding (bruxism).
Gastric Conditions
How can your dentist know if you have stomach problems? When gastric conditions such as acid reflux and bulimia exist, there is often sign of enamel erosion on the teeth due to the highly acidic stomach acids that travel back up inside the mouth on a frequent basis. Bad breath and decay may also exist since oral pH typically is not balanced or neutral in such cases.
Whole Body Health Risks of Gum Disease
One of the most serious links between oral health and body health is rooted in gum disease. When the gums become inflamed and diseased, the infection can enter the bloodstream and harm the heart and other vital components of your body. Untreated gum disease has been associated with heart attack, diabetes, Alzheimer's, stroke and premature birth. Therefore, if your dentist detects advanced stages of gum disease, you may need to take steps to protect your overall health as well as your smile.
A dentist's ability to care for your whole body when treating your teeth and gums should foster assurance that those routine dental checkups are even more important than you previously thought. To schedule your dental visit in Marietta, choose Dr. Wayne Suway.
Posted on behalf of Dr. Wayne G. Suway
1820 The Exchange SE, #600
Atlanta, GA 30339
Phone: (770) 953-1752
FAX: (770) 953-6470
Mon - Thu: 8:30 AM – 5:30 PM
Closed for lunch: 12:30 PM - 1:30 PM