Floss Your Way To Better Health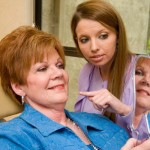 Most people know that the dentist will ask them whether or not they have been flossing each time they visit the dentist, yet most of these same people neglect this daily dental habit. The reason your dentist asks about flossing is because s/he understands the benefits of doing it. Your dentist wants you to understand that flossing is important, not just to your oral health, but to the health of your entire body. In fact, flossing your teeth every day is actually more important than brushing your teeth! That is not to say that you should neglect brushing, because it does have its benefits: freshening your breath and loosening plaque from the teeth. However, flossing does what brushing cannot do – remove plaque from the gum line and from between the teeth.
Plaque is made up of millions of acid-producing bacteria that can destroy the teeth. The constant assault of plaque on the teeth wears down tooth enamel, leaving cavities, decay, gingivitis, periodontitis, and even tooth loss in its wake. Oral plaque causes such severe damage to the mouth that it can become beyond repair, yet its damage does not stop inside the mouth. Because the mouth is full of living tissues with direct blood supplies to the rest of the body, bacteria and infection can easily travel throughout the blood stream and cause serious health concerns. Kidney disease, heart disease, diabetes, miscarriage, and preterm labor can all be caused and worsened by infections and decay within the mouth. Maintaining proper oral hygiene and regular dental visits help to ensure that your mouth is healthy – as well as the rest of your body.
Dental floss is the only tool designed to slide underneath plaque at the gum line and between the teeth. A toothbrush's bristles are not designed to clean these areas; thus, relying solely on your tooth brush to clean your teeth is simply neglecting areas were decay often starts.
Dr. Wayne G. Suway has been in dentistry for more than 35 years, and he encourages patients of all ages to floss daily. The benefits of flossing reach far beyond the mouth. Dr. Suway and his entire dental team truly care about our patients' health – inside and outside of the mouth. Contact us today to schedule an appointment for a deep cleaning and to learn the proper technique for flossing.
Posted on behalf of Dr. Wayne G. Suway
1820 The Exchange SE, #600
Atlanta, GA 30339
Phone: (770) 953-1752
FAX: (770) 953-6470
Mon - Thu: 8:30 AM – 5:30 PM
Closed for lunch: 12:30 PM - 1:30 PM