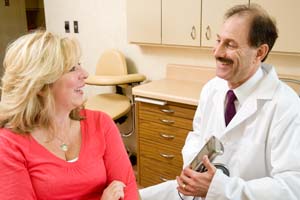 When it comes to any health related issue, early detection is a huge component to a treatment's success rate. Doctors have been able to perform miracles for patients who find certain health issues early before those issues grow and develop into untreatable stages. Oral health issues are no different. Perhaps the greatest benefit in seeing your dentist on a regular basis is that your dentist has a consistently updated view of your mouth and will notice even the slightest changes. During a routine oral exam, the assessment of your gums and teeth will be taken into account – looking for signs of gum disease and tooth decay. Cavities are indication of decay within a tooth, and if not treated at a proper time they can easily grow and spread decay and affect the entire mouth.
Dr. Wayne Suway has been practicing dentistry for more than 30 years, and he has the ability, knowledge, and expertise to notice areas of concern before they become major issues. He has also seen great improvements in dentistry throughout his time practicing dentistry, one of these being Laser Cavity Detection. The DIAGNOdent laser is an instrument used to determine whether a cavity is present before it would be visible to the eye. This laser uses technology that detects the earliest sign of decay before it has a chance to spread to the surface of the tooth. With its accurate diagnosis, treatment can begin before an oral health issue even starts!
Dr. Suway is a dentist who is well respected by his peers and colleagues and well loved by his patients and staff. He strives to provide the best dental treatments available with superior patient care. If you are looking for a dentist that you can trust for the most precise dental care with a gentle, caring touch, please contact the dental practice of Dr. Wayne G. Suway today.
Posted on behalf of Dr. Wayne G. Suway
1820 The Exchange SE, #600
Atlanta, GA 30339
Phone: (770) 953-1752
FAX: (770) 953-6470
Mon - Thu: 8:30 AM – 5:30 PM
Closed for lunch: 12:30 PM - 1:30 PM