Don't Ignore That Toothache!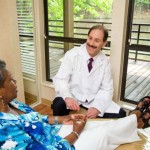 The body is an amazing machine that works intricately together. When something is wrong inside the body – whether it be minor or major – there are symptoms that occur to alert you that things are not right. These symptoms are meant to inform you that something is going on that needs your attention, and perhaps the attention of a medical professional. Your mouth is no exception to this. A tooth ache is an indication that something is wrong inside your mouth, and it should never be ignored.
A toothache is a symptom that must be addressed by your dentist, sooner rather than later, in order to protect the health of your entire mouth. Unlike a headache or upset stomach, a toothache will not go away on its own or pass in a day or so. A toothache is the symptom of damage or infection, and it must be viewed as the best indicator that there is an issue that must be addressed so that you visit your dentist.

There are many different causes of tooth pain, and while some may be less serious than others, even the smallest concern can turn into a big concern if it is not dealt with appropriately. For example, your toothache may be caused by a piece of popcorn kernel that is stuck between the tooth and gum. While you may feel silly going to the dentist to learn that a popcorn kernel was causing you pain, this is actually a big deal. If the popcorn kernel were to be left and unaddressed, it would begin to rot inside the mouth and cause a whole host of issues such as gum disease and infection. Or, perhaps, your toothache is caused by a cracked tooth. If a cracked tooth goes untreated, not only will you experience intense pain, but the tooth can become infected at the root and will need to be completely extracted from the mouth – leaving you with another issue of replacing the tooth. Your dentist would rather treat your "small" issue than having you ignore the issue until it becomes a major dental problem.
Any symptom of pain in the teeth, extreme tooth sensitivity, cracked tooth, swollen gums, an abscess, pus, or concern within your mouth needs to be evaluated and treated as soon as possible to avoid major oral health devastations.
Dr. Wayne G. Suway has been practicing dentistry for more than 30 years, and he is dedicated to providing the highest quality dental care to all of his patients. If you have a dental concern, it is important that you do not ignore it. Contact Dr. Suway today.
Posted on behalf of Dr. Wayne G. Suway
1820 The Exchange SE, #600
Atlanta, GA 30339
Phone: (770) 953-1752
FAX: (770) 953-6470
Mon - Thu: 8:30 AM – 5:30 PM
Closed for lunch: 12:30 PM - 1:30 PM