Don't Ignore Your Sensitive Teeth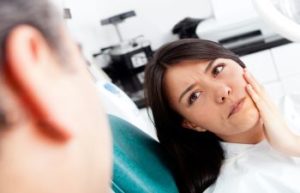 As many as 1 in 8 adults suffer from sensitive teeth, according to a HealthDay reporter from WebMD. While the condition is common, it should be taken no less seriously. Tooth sensitivity can cause you to avoid certain foods, like ice cream, coffee or soup, as many sufferers experience wincing pain when coming in contact with extreme temperatures. It may be tempting to just live with the discomfort, but you should know that your teeth may be trying to tell you about something more serious going on.
Sensitive teeth can be a temporary condition caused by the overuse of teeth whitening products. Or it could be that the natural aging process has caused your gums to recede, leaving your sensitive tooth roots more exposed. Tooth sensitivity often occurs when the outer layer of your teeth (enamel) gets damaged or wears thin. It can also be a symptom of receding gums, because your tooth roots are not designed to withstand outside exposures.
What causes the enamel erosion or gum recession that triggers sensitive teeth? It is important to find out. While one patient may simply need to cut back on their soda habit, others may need a gum graft for receding gums or even periodontal therapy to address serious gum disease. Infections within the gums and tooth can produce pain and sensitivity, and these are issues that must be professionally addressed by your dentist if you want to save your smile.
Treating tooth sensitivity is based on the culprit to your discomfort. Whether you need to start using a special toothpaste for sensitive teeth or you need a root canal or dental crown, it is critical that you let a dentist decide how to treat your sensitive teeth. Simply avoiding ice cream or popsicles should not be your answer.
Want to find out if your sensitive teeth are cause for concern? Schedule an appointment with Dr. Wayne Suway in Marietta. Pain of any kid from your teeth should be accurately evaluated, as this could mean the difference in a simple, conservative treatment and one that is invasive or costly. Not to mention, we always want your smile to be a comfortable asset, not one that is disruptive or painful.
Posted on behalf of Dr. Wayne G. Suway
1820 The Exchange SE, #600
Atlanta, GA 30339
Phone: (770) 953-1752
FAX: (770) 953-6470
Mon - Thu: 8:30 AM – 5:30 PM
Closed for lunch: 12:30 PM - 1:30 PM