Dental Implants: When to Wait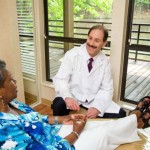 When it comes to replacing missing teeth, it is typically the sooner the better. However, there are some prerequisites for getting dental implants and it may be necessary to wait until you are a stronger candidate for the procedure. This form of tooth replacement involves the surgical placement of a titanium post into the jawbone, which acts as your tooth root. The success of the dental implant is directly related to the ability for this post to properly fuse to the bone (osseointegration) and heal effectively. Therefore, a dentist must consider several factors to determine if a patient is a candidate for dental implants.
Here are some factors that may prohibit or interfere with successful dental implant placement:
Unmanaged gum disease
Heavy smoker
Under the age of 21
Lack of bone density
Poor metabolic health
Severe cardiovascular issues
It is very important to note that just because you can't get dental implants now, it doesn't mean you can't get them in the future. Many times it involves waiting, either until you are old enough and your jawbone stops growing or until you've treated or managed a certain health condition. Other times, you may need to consult your implants dentist about a bone graft to restore adequate bone density. If you are a smoker, it is highly advised that you stop smoking entirely to facilitate proper healing and secure the longevity of your dental implants.
If you have been told you are not eligible for dental implants, please schedule a consultation with Dr. Wayne Suway. He is a reputable implants dentist who will help you understand why you may not be an ideal candidate now and tell you what steps you should take to be eligible for this life-changing tooth replacement solution in the future.
Wayne G. Suway, DDS, MAGD is proud to provide patients of all ages with dental sealants to protect their teeth. At your next dental cleaning, ask about how dental sealants can benefit your teeth.
Posted on behalf of Dr. Wayne G. Suway
1820 The Exchange SE, #600
Atlanta, GA 30339
Phone: (770) 953-1752
FAX: (770) 953-6470
Mon - Thu: 8:30 AM – 5:30 PM
Closed for lunch: 12:30 PM - 1:30 PM