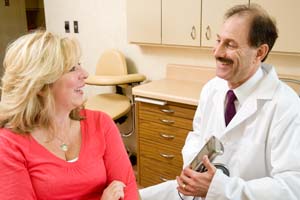 Regular dental cleanings are an essential component of oral hygiene. By neglecting to keep regularly scheduled dental cleaning appointments, people are allowing bacteria and plaque to grow inside their mouths and do damage to their teeth and gums that is often not reversible. Wayne G. Suway, DDS, MAGD understands the important relationship between a person's oral health and routine dental cleanings. There is no need to be anxious about visiting our dental practice in Marietta for a dental cleaning or dental treatment. Dr. Suway and his friendly staff are caring and committed to providing gentle care to all patients.
Dental cleanings are performed in the office with the use of different instruments. These instruments are designed to clean the spaces between the teeth that brushing and flossing cannot fully reach. An ultrasonic cleaner, a water sprayer, a rotary toothbrush with a special polishing toothpaste, and a fluoride treatment are all common tools used by Dr. Suway and his staff to thoroughly clean the teeth. The plaque and tartar buildup that forms on the teeth needs to be removed on a regular basis so that damaging effects do not occur. When plaque and tartar are left on the teeth, the gums will be affected and the tooth enamel will also begin to erode. Once the tooth enamel is affected, irreversible damage has occurred and the teeth will require even further treatment.
Maintaining the health of the teeth and mouth are vital to maintaining overall health. Practicing proper oral hygiene at home is only one part of the equation of oral health. Dental cleanings are crucial to prevent the buildup of plaque, tooth decay, and gum disease. Dental cleanings are also an opportunity for Dr. Wayne Suway to detect any dental problems early on and to prevent them from worsening.
To schedule your dental cleaning, call us today.
Posted on behalf of Dr. Wayne G. Suway
1820 The Exchange SE, #600
Atlanta, GA 30339
Phone: (770) 953-1752
FAX: (770) 953-6470
Mon - Thu: 8:30 AM – 5:30 PM
Closed for lunch: 12:30 PM - 1:30 PM