Your Smile and Your Confidence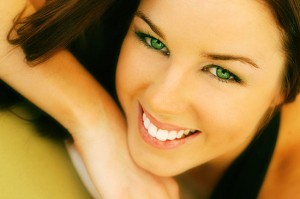 First impressions give people a great deal of information about who you are. Sometimes a first impression gives people the right idea about you, while sometimes it does not. If you are unhappy or self-conscious about the appearance of your smile, you tend to hide it around other people; especially those that you do not know very well. This can give other people the wrong impression about who you are because people typically assume that those who do not offer a kind smile are unhappy, unfriendly, and unapproachable. If you lack confidence in your smile, you lack confidence in yourself – and this greatly affects how others perceive you.
First and foremost, a healthy smile promotes confidence. A healthy smile tells others that you value yourself enough to take care of yourself. If people see that you take the means to take care of your smile, they are more likely to put trust in you. A discolored, stained, crooked, or incomplete smile is often viewed negatively as a sign that you neglect your oral health. It may seem unfair, especially to those who are just unfortunate to be prone to cavities and discoloration, but most people are simply put off by an unattractive smile. If you make it a priority to achieve a healthy smile, others are more likely to see that effort and put more confidence in you.
An attractive smile is greatly sought after and appreciated in our society today. Not only do people with an attractive smile feel more confident about their smile, thus offering it more freely, but also an attractive smile makes people much more approachable. A bright, white, clean smile makes most people seem more trustworthy because it is freely shared. This can affect both your personal and professional life. On the job, people who are viewed as trustworthy and who put value in themselves are much more likely to be given job responsibilities that require trust that the job will be done well.
If you are unhappy, embarrassed, or self-conscious about your smile and are ready to do something about it, please contact the dental practice of Dr. Wayne G. Suway in Vinings. With over 35 years of experience, Dr. Suway has the expertise to help you achieve a smile that you feel great about sharing. Now is the perfect time to put confidence in your smile.
Posted on behalf of Dr. Wayne G. Suway
1820 The Exchange SE, #600
Atlanta, GA 30339
Phone: (770) 953-1752
FAX: (770) 953-6470
Mon - Thu: 8:30 AM – 5:30 PM
Closed for lunch: 12:30 PM - 1:30 PM