Your 2019 Dental Insurance: Use It or Lose It!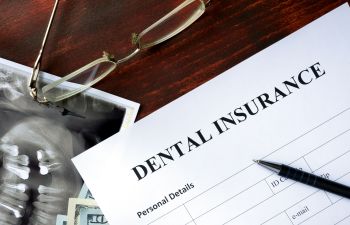 It is the last month of the year and time to tie up the loose ends of 2019. When it comes to your dental insurance plan, have you maximized your benefits or are you leaving money on the table? Most dental plans mark their end on December 31st, which means you still have time to take advantage of the coverage you (and your family) have been awarded this year.
According to the National Association of Dental Plans, only 2.8% of people with PPO dental plan participants reached or exceeded their plans annual maximum. This means the majority of dental insurance participants are letting hard-earned dental dollars go to waste. To ensure you (quickly) maximize your insurance coverage before the end of the month, here is some insight and tips from Dr. Wayne Suway.
Pay Attention to Your Preventative Benefits
Prevention is key, especially when it comes to your health and your dental health. Most dental insurance companies recognize this by offering 100% coverage on two preventative dental care visits per year. This includes a professional cleaning and x-rays that can keep you from having to undergo lengthy, inconvenient and costly dental treatments. Unfortunately, this "fully-covered" service is too often not taken advantage of.
If it has been six months since you've visited the dentist for a checkup and you've only had one preventative visit in 2019, now is the time to schedule that appointment before the New Year rings in! Keep in mind that holidays can be hectic, so try to use those dental benefits before other demands get high.
Know Your Plan's Coverage
Not all dental plans are created equal, and not all services are fully covered. Some dental insurance plans are very comprehensive and others have only a limited amount of services that are covered. It is important that you read the fine print of your policy as well as make sure your dentist is a listed provider of your dental insurance plan. If your routine dental checkup revealed some oral health issues earlier this year, it may be time to make that follow-up appointment for cavity repair, bonding or gum disease therapy before the year end. Based on your treatment plan and the details of your dental insurance policy, it is typically possible to determine an accurate estimate of what your out-of-pocket expense will be.
Still Confused About Your Dental Insurance?
At the office of Dr. Wayne Suway, we will gladly help you understand your dental insurance benefits as well as fill out all those complicated insurance forms. We have an in-house insurance expert here to evaluate your particular insurance plan and work to get you the maximum reimbursement possible.
Don't let your dental insurance dollars go to waste in 2019! Call Dr. Wayne Suway today for a December appointment.
Posted on behalf of Dr. Wayne G. Suway
1820 The Exchange SE, #600
Atlanta, GA 30339
Phone: (770) 953-1752
FAX: (770) 953-6470
Mon - Thu: 8:30 AM – 5:30 PM
Closed for lunch: 12:30 PM - 1:30 PM