Why You Should Never Sleep In your Dentures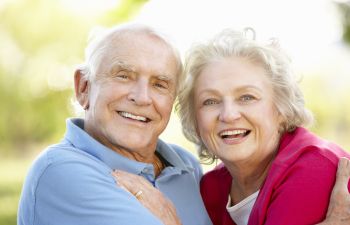 Dentures are a remarkable way to replace missing teeth. Today's denture models look, feel and function more like real teeth than ever before. However, if you've chosen a traditional denture (which means it is removable and not secured with dental implants), you'll need to follow some special care tips to ensure your mouth stays healthy and strong. One of the most important rules to follow is to remove them each night. In other words, never sleep in your dentures.
Sleeping in your dentures can lead to the following:
Promotes Oral Bacteria, Odors and Disease
First and foremost, sleeping in your dentures can threaten your health – including your oral health as well as your overall health. If you regularly sleep with your dentures in place, you are prone to more bacteria and denture plaque in your mouth than those who take their dentures out at night. This can lead to gum disease as well as thrush, bad breath and other dental problems. In addition, you may have higher blood levels of interleukin-6, which is a protein tells us the body is fighting an infection.
Accelerates Bone Loss
When teeth go missing, there is a gradual loss of bone density due to the fact that there is no longer a tooth root to properly stimulate the jawbone. It's a process of resorption. Unfortunately, there's no way around this if you wear traditional dentures. But if you don't take your denture out and you wear it 24 hours a day, this can put additional pressure on your gums and bone underneath, which consequently accelerates the process of bone deterioration. In result, you may suffer from ill-fitting dentures as well as facial changes as your cheeks and lips lose support.
Encourages Irritations
While dentures are more comfortable than they used to be, they are still a foreign object or appliance in your mouth. Since you don't need your teeth while you sleep, it is best to let your soft oral tissues rest and breathe. If not, you may find yourself more vulnerable to gum, cheek and tongue irritations from your denture or partial.
Taking the time to remove your dentures at night is one of the healthiest steps you can take for your smile health. In addition, it can prolong the life of your dentures and help you avoid unnecessary repairs or relines along the way.
If you wear dentures and need suggestions on a good oral hygiene routine, let us know. Call the office of Dr. Wayne Suway to schedule your consult today! We provide our patients with top-ranked denture care and other restorative dentistry services in Marietta.
Posted on behalf of Dr. Wayne G. Suway
1820 The Exchange SE, #600
Atlanta, GA 30339
Phone: (770) 953-1752
FAX: (770) 953-6470
Mon - Thu: 8:30 AM – 5:30 PM
Closed for lunch: 12:30 PM - 1:30 PM