Why Sinus Surgery Before Getting Dental Implants?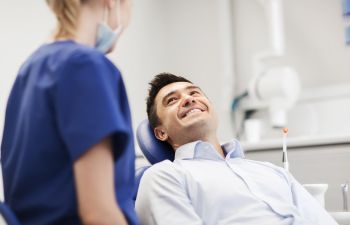 We all have maxillary sinuses that are located in the skull just above the jaw and behind the cheeks. There are a number of reasons that people have to have sinus surgery. Most of the time it is due to frequent sinus infections or breathing difficulties. However, another reason for sinus surgery is to qualify someone for dental implants.
When the upper teeth are lost, bone loss can occur over time. Without adequate bone height and density in the upper jaw, a surgically placed dental implant could penetrate the sinus cavity. Not only does this compromise the security of the dental implant, but it also increases the risk of infection and discomfort.
In such cases, a sinus lift augmentation is recommended. During this type of surgery, the sinuses are gently lifted so that a bone graft can be inserted to rebuild the upper jaw. Typically, only a few millimeters of bone is needed. Sinus lift augmentation using bone grafting allows a dental implant to be fully enveloped in bone for optimal osseointegration. In result, patients gain maximum stability in their new set of teeth.
After your sinus lift surgery, you can expect to wait about 9 to 12 months before getting your dental implants. This is to give your grafted bone enough time to fully heal and be absorbed by your existing bone. Rest assured that bone grafting prior to dental implants is a very common procedure and one that carries minimal risks. It can qualify you to take advantage of the most preferred tooth replacement solutions available. Dental implants not only last a lifetime, but they act, feel and look just like your natural teeth.
To learn more about sinus lift augmentation from a reputable implants dentist in Marietta, please Dr. Wayne Suway.
Posted on behalf of Dr. Wayne G. Suway
1820 The Exchange SE, #600
Atlanta, GA 30339
Phone: (770) 953-1752
FAX: (770) 953-6470
Mon - Thu: 8:30 AM – 5:30 PM
Closed for lunch: 12:30 PM - 1:30 PM