Why Silver Fillings Can Stay in the Past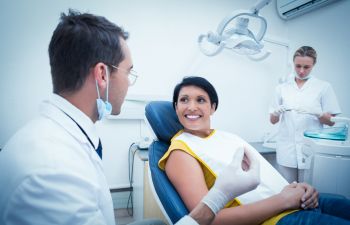 If you need to have a dental filling, you may be looking for an alternative to the metal, or amalgam, fillings you had as a child. Fortunately, modern dentists offer a filling material that is highly preferred over the old silver fillings used in the past. White (or tooth-colored) fillings are so favored that many patients choose to replace their old metal fillings with this superior choice that is both metal-free and natural-looking.
The Trouble with Silver Fillings
Amalgam fillings contain metal, mercury to be exact. Although these fillings are still being used today, it is with diminishing numbers. Metal fillings can blacken and expand with age, which causes staining and cracking. In addition, there is much debate over their safety and long-term health risks. To avoid potential harm while also gaining a filling that blends in rather than sticks out, patients are choosing white fillings.
White Fillings
White, tooth-colored fillings are an excellent alternative to traditional metal fillings. White filings are made of composite resin, a glass and plastic mixture that is applied in layers your tooth surface. Overall, white fillings offer the following advantages:
They are natural in color and blend well with your natural teeth.
They are "bonded" to your teeth, which pulls your tooth together, making it stronger.
They are more stable in extreme hot and cold temperatures (like when eating ice cream or drinking coffee) than amalgam, which means that they don't expand or contract as much.
They are free of metals or any other toxins.
Natural Color Dental Fillings
At the office of Dr. Wayne Suway, we realize the value of having a dental filling that looks natural and offers remarkable durability. In doing so, we use composite resin fillings as a restorative and cosmetic treatment to repair or enhance your smile. To learn more about white fillings and what you can expect during your procedure, please call our Marietta dental practice today.
Posted on behalf of Dr. Wayne G. Suway
1820 The Exchange SE, #600
Atlanta, GA 30339
Phone: (770) 953-1752
FAX: (770) 953-6470
Mon - Thu: 8:30 AM – 5:30 PM
Closed for lunch: 12:30 PM - 1:30 PM