Why Replace a Missing Back Tooth?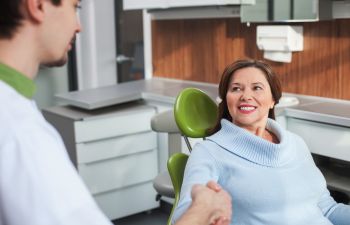 If you have recently lost one of your back teeth (or molars), your smile appearance is less likely to be threatened. However, don't be fooled into thinking that a molar doesn't need to be replaced just because the empty gap can't be seen when you smile. Missing teeth, regardless of where they are in your mouth, can produce significant consequences. When you neglect to replace just one missing tooth, the following chain of events can occur:
Too Much Stress On Front Teeth
Your back teeth play a primary role in helping you chew food. If one of your molars is missing, your front teeth may pick up the slack. These teeth aren't designed to handle excessive chewing forces and may become damaged under the extra stress over time.
Shifting Teeth
A leading consequence of ignoring a missing tooth is the shifting of neighboring teeth. It doesn't take long before the adjacent teeth will start to move and migrate towards the open gap. This produces a host of problems within your smile and can compromise your oral health. Shifting teeth can cause the following:
bite misalignment and jaw problems
greater risk for decay due to areas that are hard to keep clean
crooked smile appearance
Premature Facial Aging
Last but not least, your overall facial appearance can be affected by missing back teeth. Your jawbone needs proper stimulation by your tooth roots in order to retain its quality and density. Therefore, not replacing a missing tooth can cause the jawbone to deteriorate. Since this bone is what holds the framework for your lower face, patients can experience a sunken or hallowed facial appearance. This is also known as premature facial aging.
While the consequences of not replacing a missing molar are dismal, there is good news. A dental implant can help you avoid every single one of these drawbacks, even jawbone loss!  Schedule your consult today with Dr. Wayne Suway– we are Marietta's trusted source for top quality dental implants.
Posted on behalf of Dr. Wayne G. Suway
1820 The Exchange SE, #600
Atlanta, GA 30339
Phone: (770) 953-1752
FAX: (770) 953-6470
Mon - Thu: 8:30 AM – 5:30 PM
Closed for lunch: 12:30 PM - 1:30 PM