Why Patients Love Opalescence® Teeth Whitening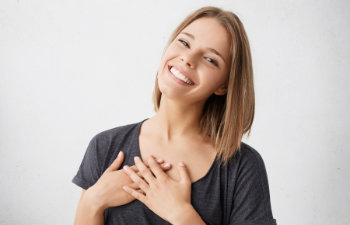 At the office of Dr. Wayne Suway, we work hard to bring you the latest insights and advancements in dental care. In doing so, we proudly offer Opalescence® Teeth Whitening, a revolutionary treatment in cosmetic dentistry that can transform your smile and boost your confidence with minimal time and effort.
A dazzling, radiant smile is something we all desire. However, over time, our teeth may lose their luster due to various factors such as age, dietary habits, smoking, or certain medications. But fear not, as Opalescence® Teeth Whitening offers a safe and effective solution to brighten your smile and reclaim your pearly whites!
Advantages of Opalescence® Teeth Whitening
There are many different professional whitening systems on the market. At our Marietta clinic, Dr. Wayne Suway chose Opalescence® for the following reasons:
Professional Expertise, Stunning Results: One of the most significant advantages of choosing Opalescence® Teeth Whitening is that you are in the capable hands of a skilled dental professional like Dr. Wayne Suway. With his expertise and experience, you can expect customized treatment plans and exceptional results.
In-Office Whitening for Instant Impact: If you're looking for immediate results, the in-office Opalescence® Teeth Whitening treatment is your go-to option. In just one visit, you can witness a noticeable transformation of your teeth, leaving you with a brighter and more vibrant smile.
Customized At-Home Whitening: Opalescence® also offers at-home teeth whitening options, which provide the flexibility of achieving a whiter smile in the comfort of your home. Dr. Wayne Suway will provide you with a custom-made tray that fits perfectly over your teeth, ensuring an even and consistent application of the whitening gel.
Controlled Whitening Process: The Opalescence® whitening gel contains an active ingredient, either hydrogen peroxide or carbamide peroxide, in various concentrations. This allows Dr. Wayne Suway to tailor the treatment precisely to your needs, minimizing sensitivity and maximizing effectiveness.
Combats Stubborn Stains: Opalescence® Teeth Whitening can effectively tackle stubborn stains, including those caused by coffee, tea, red wine, and tobacco. The powerful whitening agents penetrate deep into the enamel, breaking down the discoloration and revealing a brighter smile.
Safe and Gentle: Opalescence® products are carefully formulated to be gentle on your teeth and gums, minimizing the risk of sensitivity while providing remarkable results. As with any dental procedure, it's essential to follow your dentist's instructions for the best experience.
Boosts Confidence: A radiant smile can significantly impact your self-confidence and overall well-being. With Opalescence® Teeth Whitening, you can unlock the full potential of your smile and feel more self-assured in both personal and professional settings.
Remember, a healthy oral hygiene routine and regular dental check-ups are essential to maintain your newly whitened smile for the long term. Dr. Wayne Suway and our dental team will be more than happy to guide you on the best practices to preserve your pearly whites.
Call Us Today to Book Your Brighter Smile in Marietta
Opalescence® Teeth Whitening is a game-changer when it comes to achieving a brighter, more dazzling smile. Whether you opt for the in-office treatment for quick results or the convenience of at-home whitening, the advantages of this remarkable dental procedure are bound to leave you beaming with confidence.
Are you ready to unveil your radiant smile? Reach out to Dr. Wayne Suway's dental office in Marietta today to explore the magic of Opalescence® Teeth Whitening! Your journey to a brilliant smile starts here.
Posted on behalf of Dr. Wayne G. Suway
1820 The Exchange SE, #600
Atlanta, GA 30339
Phone: (770) 953-1752
FAX: (770) 953-6470
Mon - Thu: 8:30 AM – 5:30 PM
Closed for lunch: 12:30 PM - 1:30 PM