When Is Your Tooth Beyond Saving?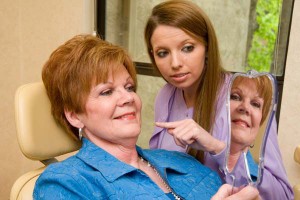 A tooth can be on the brink of death if it is severely injured or decayed. Whenever possible, it is always best to save your natural tooth. However, when a root canal or other restorative dentistry procedure is unable to save your damaged tooth, an extraction may be necessary.
It can be difficult to determine if a tooth is savable or not. Therefore, it is important to see your dentist for a professional examination and x-rays. If you have any question about whether or not your tooth is viable, schedule an appointment sooner rather than later. In most cases, time is of the essence if you want to save your natural tooth.
As mentioned before, the two primary causes for a dead or dying tooth are tooth decay and dental trauma. When bacterial infection and decay are not treated and allowed to penetrate the deeper layers of your tooth, the infection will reach the tooth center (pulp). A root canal can save your tooth if it is addressed before the white blood cells die and prior to loss of blood flow to this area. Dental trauma, whether it is from a serious fall or severe grinding habit, can also result in a loss of blood supply to the tooth. This causes the pulp to die and the tooth to need extraction. This can be a slow process (resulting from a tooth fracture) or a sudden response (from a traumatic injury).
What are the signs of a dying tooth? Some patients have no symptoms. However, the following are common warning signs that your tooth is non-vital or headed that way:
Turning darker or discoloration
Unexplained swelling or raised pimple like area (abscess)
Loose tooth (loss of support due to infected bone)
Severe pain
Foul odor
If you have any of the above symptoms, see us as soon as possible. Although Dr. Suway is known for his remarkable success in tooth replacement, we do our best to save your natural tooth if it is at all possible Never ignore a toothache or delay treatment after a tooth injury – your tooth could by dying and need professional attention. Not only will a root canal or other restorative procedure bring you out of pain, but it will also save you the cost of a tooth extraction and prosthetic replacement.
Posted on behalf of Dr. Wayne G. Suway
1820 The Exchange SE, #600
Atlanta, GA 30339
Phone: (770) 953-1752
FAX: (770) 953-6470
Mon - Thu: 8:30 AM – 5:30 PM
Closed for lunch: 12:30 PM - 1:30 PM