Ways to Prepare for Your Oral Surgery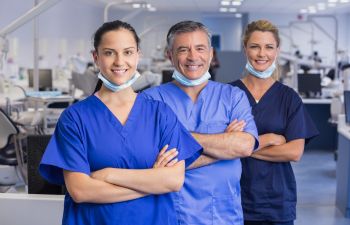 Whether you are scheduled for wisdom teeth removal or dental implants, oral surgery requires some preparation and forethought. At the office of Dr. Wayne Suway, we take extended measures to inform patients about what to expect with oral surgery, especially when it comes to dental implants. You can also trust that Dr. Suway will employ the latest and most advanced dental surgical techniques to foster a smooth and quick recovery whenever possible.
However, we also recommend the following strategies if you are a patient who is preparing for an upcoming oral surgery:
Understand the procedure. It is important to know exactly why you need the oral surgery so that you can have a mindset that is focused on the benefit and results.
Review your medications. Always inform your dentist about any prescription medications or over-the-counter supplements you are taking, including vitamins.
Arrange for a ride home. Whether you are having IV sedation, general anesthesia or light sedation, it is important that you have a driver scheduled to transport you home after oral surgery.
Follow instructions on eating, drinking and smoking. Prior to your surgery and having anesthesia, you may be asked to stop eating and drinking after midnight. When it comes to smoking, it is best that you quit days or weeks before your surgery to alleviate complications.
Know what to wear and not to wear the day of surgery. Dress in comfortable, loose-fitting clothes for your oral surgery. It is best not to wear contact lenses or heavy make-up.
Pre-plan your post-surgery routine. One of the best things you can do is prepare for your recovery when you get home. Stock up on protein drinks and other "approved soft foods" before your surgery date. Arrange for someone to stay with you for the first 24 hours if you are recovering from anesthesia. Have some ice packs ready to go and fill your antibiotic prescriptions if you already have them.
Cancel in advance if you're sick. Not only do we need to keep our staff members healthy, but undergoing oral surgery when you have a virus can greatly impede your body's ability to recover. Don't be afraid to reschedule your oral surgery when your health is up to par.
To learn more about how you can prepare for dental implant surgery or another type of oral surgery, contact Dr. Wayne Suway. He is Marietta's best when it comes to complete implant dentistry in one place.
Posted on behalf of Dr. Wayne G. Suway
1820 The Exchange SE, #600
Atlanta, GA 30339
Phone: (770) 953-1752
FAX: (770) 953-6470
Mon - Thu: 8:30 AM – 5:30 PM
Closed for lunch: 12:30 PM - 1:30 PM