Ways to Fix Your Front Tooth Gap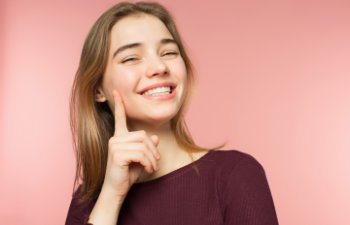 Do you have a noticeable space between your two front teeth? Unless you are choosing to embrace your front tooth gap like Madonna or Michael Strahan, you may want to learn about ways you can fix it. Even a small space in the front upper arch of your smile can be a major threat to your self-confidence. While a front tooth gap rarely causes any harm to your dental health, it can still be corrected by a skilled cosmetic dentist – and it may not be as invasive or expensive as you may think!
To determine which cosmetic dentistry service is best for addressing your front tooth gap, you'll need to determine the cause and severity of this unsightly space. Here are some things you'll need to consider:
Dental Implant/Dental Bridge
Is the gap caused by missing teeth? If the empty space in your smile was caused by a lost tooth, you'll need to consider a restorative dentistry option like a dental implant or bridge.
Short-Term Orthodontics
Are there other alignment issues? While not everyone is willing to invest the time and money required, orthodontics can move your front teeth closer together while also addressing other misalignment issues you may have. Keep in mind that modern orthodontics offers clear and comfortable solutions,
Dental Bonding
How large is the gap? A minor space can be improved with cosmetic dental bonding, which is a simple, affordable and quick procedure that builds up the sides of the adjacent teeth with composite resin.
Porcelain Veneers
Is the gap too large for bonding? Larger tooth gaps may need porcelain veneers, which are wafer-thin shells of porcelain that will be bonded to the front surfaces of your top two teeth to cover up the gap permanently.
Are you ready to say goodbye to your front tooth gap? At the office of Dr. Wayne Suway, we offer a full menu of cosmetic and restorative dental treatments to ensure patients are fully confident in their smile. Call today to learn more about how your front tooth gap can be fixed in Marietta.
Posted on behalf of Dr. Wayne G. Suway
1820 The Exchange SE, #600
Atlanta, GA 30339
Phone: (770) 953-1752
FAX: (770) 953-6470
Mon - Thu: 8:30 AM – 5:30 PM
Closed for lunch: 12:30 PM - 1:30 PM