Traveling After Tooth Extraction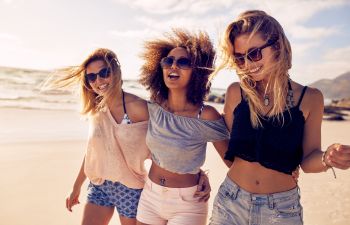 It is not always easy to arrange your travel plans around your dental procedures, especially when it involves a tooth extraction you weren't anticipating. While it may seem like there is no convenient time to have your tooth removed, putting off the procedure can lead to worsening decay, disease or damage depending on the reason for your extraction. But what if your tooth extraction is scheduled just days before your big trip? If it involves a lengthy day of travel or flying on an airplane, you need to take some precautions.
Getting on an airplane the day after an oral surgery is technically safe for most patients, but it is not ideal. The first 24-48 hours are typically the most critical in terms of healing after your extraction. It is advised that you get as much rest as possible to support oral healing and avoid dry socket, which is when the blood clot at the extraction site gets disturbed.
Airplane travel doesn't always foster oral comfort. The change in altitude and cabin pressure can contribute to sinus pressure, headaches and toothaches in people who have not had any dental work performed. Therefore, it is important to take extra measures to protect your comfort and minimize risks.
If you can't cancel your plane ticket and your dentist approves travel after your dental procedure, you can pack the following items to be prepared:
Pain medication: Don't forget your prescribed or over-the-counter pain medication given by your dentist.
Extra gauze: You'll need to change out your gauze periodically if you're traveling within hours after your extraction.
A refillable water bottle: Staying hydrated is important. However, you'll need to avoid hot, carbonated and acidic beverages for the first couple of days. Choose water and remember to use a bottle without a straw.
An empty zip-lock bag for ice: Pain and swelling can be relieved with a cold compress. The best option for airplane passengers is filling up an empty plastic bag with ice from the flight attendant.
Soft snacks: If possible, bring some easy-to-chew foods on the flight with you. Yogurt and applesauce are great choices after a tooth extraction.
Your dentist's phone number: In the case of unexpected pain, swelling or other issues, don't hesitate to call your dentist and get advice.
At the office of Dr. Wayne Suway, we don't want you to have to cancel your summer trip due to an unexpected extraction or other unplanned dental procedure. However, we do encourage you to take the necessary steps to promote your comfort and eliminate dental risks when traveling soon after your dental visit. The healing that takes place after an extraction is a critical step. Contact our office today to learn what you can expect after your specific procedure.
Posted on behalf of Dr. Wayne G. Suway
1820 The Exchange SE, #600
Atlanta, GA 30339
Phone: (770) 953-1752
FAX: (770) 953-6470
Mon - Thu: 8:30 AM – 5:30 PM
Closed for lunch: 12:30 PM - 1:30 PM