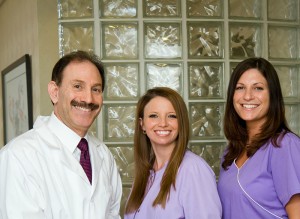 It doesn't matter how old or young a person is, trauma to the teeth can occur at any age. Many people go through their entire adolescence and adult hood without a single cavity only to bite down on a piece of ice at age 53 and crack or break a tooth. Ouch! Wayne G. Suway, DDS, MAGD has been practicing dentistry for over 30 years and has expertise in repairing teeth that have suffered damage. Teeth that are damaged and left untreated can easily provide an opening for cavities and decay. It is important that anyone who has suffered trauma to the teeth seek professional dental care as quickly as possible.
There are many times when people make the mistake of not having their teeth checked after trauma. Many times there is no initial apparent damage to the tooth; it may be a little sore, but it looks fine and it is not loose. However, this is often when many people mistakenly believe that all is well, when in fact damage to the roots has occurred. Teeth that become loose, are chipped or fractured, or that are completely knocked out show obvious damage, and people are quick to have these situations addressed. Yet, it is often those who think that everything is OK who end up with unforeseen trauma. Perhaps a month goes by and then a grayness of the tooth becomes obvious, and then you remember hitting your tooth a month back and telling yourself that all was fine.
Dr. Suway wants all of his patients to understand that even the simplest trauma to the teeth can cause major damage. That is why it is important that any time trauma or injury to the teeth occur that you have it checked out by your trusted dentist. Dr. Suway takes the time to meet with all of his patients and treat them on an individual basis. No two mouths are alike, and, therefore, should all be treated on a 1:1 basis. For all of your dental needs you can trust Wayne G. Suway, DDS, MAGD in Vinings for the highest quality and most compassionate care. Call today to schedule your appointment and take the first step in achieving your healthiest, most beautiful smile.
Posted on behalf of Dr. Wayne G. Suway
1820 The Exchange SE, #600
Atlanta, GA 30339
Phone: (770) 953-1752
FAX: (770) 953-6470
Mon - Thu: 8:30 AM – 5:30 PM
Closed for lunch: 12:30 PM - 1:30 PM