Top Reasons for Tooth Loss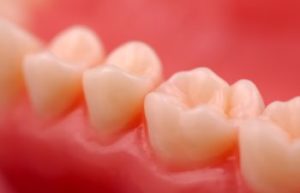 Tooth loss is a problem. Regardless of your gender or your stage of life, you need your natural teeth. Whether it is one tooth or several teeth, it is far more than an aesthetic issue. Missing teeth lead to chewing difficulties, speech challenges, nutritional implications, alignment problems and bone loss. To help patients avoid the detrimental effects of tooth loss, it is important to know what causes a natural tooth to go missing in the first place.
Here are some common reasons for tooth loss:
Poor Oral Hygiene
If you slack on your oral hygiene efforts, you could set yourself up for a destructive chain of events for your smile. When plaque accumulates on your teeth, it leads to decay and gum disease. Once periodontal disease destroys the supporting bones and ligaments that keep your teeth in place, your smile is at risk for tooth loss.
Poor Nutrition
Your teeth are living parts of your body. Therefore, they need proper nutrients in order to be strong and stay vital. Furthermore, the wrong foods, such as those with high carbs, sugars and acids, can destroy your teeth over time through enamel erosion and extensive decay.
Bad Habits
It is also possible that your daily habits are putting you at risk for tooth loss. Those that grind their teeth may find that teeth wear down prematurely, even to the point of needing to be extracted and replaced.
Smoking and Drinking Alcohol
Other habits such as smoking cigarettes and drinking heavy amounts of alcohol can also cause tooth loss. Drinking alcohol and smoking dramatically increase your risk of developing gum disease, a leading cause of tooth loss in the United States. In addition, smoking restricts proper blood supply to your gums, which further compromises your ability to keep your natural smile.
Tooth Trauma
Tooth loss isn't always in your control. Accidental tooth trauma, such as falls, sports injuries and car accidents, is another common reason to need teeth replacement. This can only be avoided in certain cases by wearing a protective mouthguard in sports.
If you need a tooth replacement specialist in Marietta, turn to Dr. Wayne Suway. We do our best to help patients avoid the serious consequences of tooth loss. However, if you've already had to part with one or more natural teeth, we have remarkable solutions available for you. Call now to learn about dental implants.
Posted on behalf of Dr. Wayne G. Suway
1820 The Exchange SE, #600
Atlanta, GA 30339
Phone: (770) 953-1752
FAX: (770) 953-6470
Mon - Thu: 8:30 AM – 5:30 PM
Closed for lunch: 12:30 PM - 1:30 PM