Top Procedures in Cosmetic Dentistry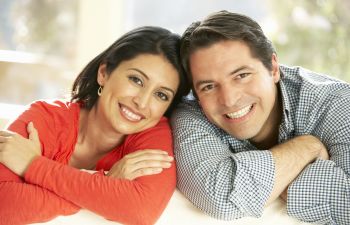 More and more patients are taking advantage of cosmetic dentistry. New technology allows for comfortable and fast procedures and natural-looking results. Although there is a wide range of cosmetic services to fit your budget needs, it is an invaluable investment that can improve your quality of life and even your career.  Teeth whitening still remains the number one requested cosmetic dental procedure, and it is certainly the quickest and most affordable. However, the American Academy of Cosmetic Dentistry reports that veneers, bonding and dental implants are also popular procedures for those that want to achieve a more attractive smile.
"People want to look like they were born with their smile, not like they have purchased it. These procedures are among the easiest and most effective ways to conservatively restore and enhance one's smile," said AACD President Dr. James Hastings.  The advantage of dental implants, bonding and veneers is that they can easily be customized to match a patient's individual smile needs. The size, shape and color can be carefully crafted to achieve a smile you once had, or a smile you've always dreamed of. Here is a more detailed look at the cosmetic dental procedures that topping the charts:
Porcelain Veneers: Dental veneers are wafer thin porcelain shells that are laminated to the front surface of your teeth to improve their appearance. This material is not only lifelike, but also very durable. Many patients choose this smile correction for front teeth that are chipped, discolored, gapped or even crooked. A very small portion of your tooth is removed to ensure the veneer adheres well to the tooth. Therefore, veneers is a permanent cosmetic solution.
Tooth Bonding:  Dental bonding is simple, effective and affordable. During this procedure, your dentist attaches or "bonds" either composite or porcelain material directly to the tooth. Dental bonding is more appropriate for small areas of tooth damage or minor smile flaws.
Dental Implants:  Dental implants are the gold standard option in tooth replacement. Using strong titanium posts, they permanently replace the roots of missing teeth.  Implants are known for their unrivaled ability to look, feel and function exactly like your natural tooth. If cared for properly, your dental implants should last a lifetime!
The office of Dr. Wayne Suway welcomes the opportunity to improve the appearance of your smile. We understand the precision and artistry it takes to create natural, long-lasting and beautiful results. Regardless of your age, if you are hiding your smile, it is time to consider the latest advancements in cosmetic dentistry. Even simple teeth whitening can make a dramatic difference in your smile confidence.
Posted on behalf of Dr. Wayne G. Suway
1820 The Exchange SE, #600
Atlanta, GA 30339
Phone: (770) 953-1752
FAX: (770) 953-6470
Mon - Thu: 8:30 AM – 5:30 PM
Closed for lunch: 12:30 PM - 1:30 PM