Tooth Stains from Your Antibiotic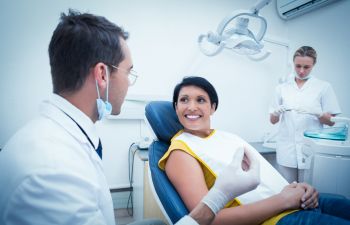 When it comes to stubborn dental stains and antibiotics, tetracycline gets the most heat. While tetracycline was welcomed with open arms sixty years ago as another option in effective antibiotics, its unwanted dental side effect was soon discovered. Tetracycline proved to be detrimental for the dentin in pediatric teeth, which led to a reaction of permanent tooth discoloration.
Tetracycline tooth stains typically make the teeth appear dark or grey. The negative reaction occurs during tooth mineralization. While our teeth are constantly losing (demineralization) and gaining minerals (remineralization) to stay healthy and strong. This process is even more active in young, growing smiles.
Research found that when the teeth are exposed to tetracycline antibiotic at a time of tooth mineralization or calcification, the tetracycline bound to the calcium ions in the teeth. When this occurs before the permanent teeth erupt, the teeth will emerge with initial fluorescent yellow discoloration. As soon as light hits affected teeth, however, tetracycline oxidizes and the color begins to transition to brown or grey over the following months or year.
After the discovery and understanding of tetracycline tooth stains in children, the FDA modified the rules for this antibiotic use. Doctors will no longer prescribe tetracycline to women during the second and third trimesters of pregnancy or in children up to 8 years of age. These timeframes directly correspond to the periods of calcification of the teeth.
The Trouble with Teeth Whitening and Tetracycline
Unfortunately, most teeth whitening methods won't reverse the staining caused by tetracycline, as it is in the dentin of the teeth rather than the outer enamel. However, that doesn't mean you can't achieve a white, seamless and brilliant smile. At the office of Dr. Wayne Suway, we can determine your candidacy for porcelain veneers or cosmetic dental bonding to cover up unsightly dental discoloration caused by tetracycline. Call our Marietta office today.
Posted on behalf of Dr. Wayne G. Suway
1820 The Exchange SE, #600
Atlanta, GA 30339
Phone: (770) 953-1752
FAX: (770) 953-6470
Mon - Thu: 8:30 AM – 5:30 PM
Closed for lunch: 12:30 PM - 1:30 PM